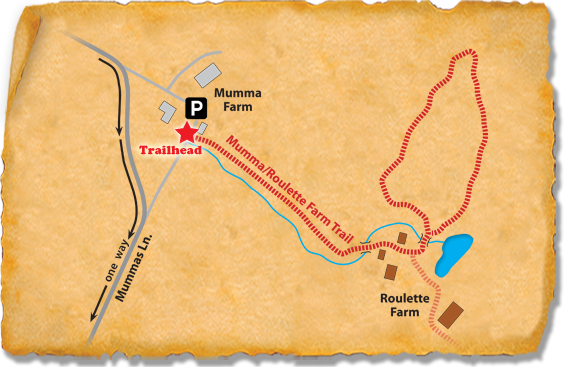 The Mumma/Roulette Farm Trail is an easy 1 mile loop featuring interpretive exhibits about each farm and the Civil War history here. The trail traverses farm field, streamside, woodland, and pond habitats. Keep your eyes open and have fun!
Antietam was the bloodiest one-day battle in American history. 23,000 soldiers were killed, wounded or missing after twelve hours of savage combat on September 17, 1862. The Battle of Antietam ended the Confederate Army of Northern Virginia's first invasion into the North and led to Abraham Lincoln's issuance of the preliminary Emancipation Proclamation.
Track an adventure here

Location Details
Recreational Features:
Interpretive Programs, Birding
Amenities:
Restrooms, Visitor Center, Gift Shop
ADA Compliant:
Seasonality:
Adventures for Antietam National Battlefield - Mumma Roulette Farms
Directions
Latitude: 39.474153200000
Longitude: -77.744566300000
For official maps and directions click here
Traveling East on Interstate 70:
Exit 29A onto Rt. 65 south. Ten miles south on the left is the Visitor Center.
Traveling West on Interstate 70 from the Baltimore/Washington area:

Exit 29 onto Rt. 65 South towards Sharpsburg. Travel about 10 miles south to the Park Visitor Center entrance which will be on your left side.
Optional Route: Exit 49 onto Alternate Rt. 40 West towards Middletown. Continue through Middletown, over South Mountain to Boonsboro. Turn left onto Rt. 34 to Sharpsburg. When you enter town, turn right (north) onto Rt. 65 and the Park Visitor Center will be on your right a mile north of Sharpsburg.
Traveling North-South on Interstate 81:

Exit 1, Rt. 68, six miles east to Rt. 65. Turn RIGHT at light on Rt. 65. Five miles south on the left is the Visitor Center.