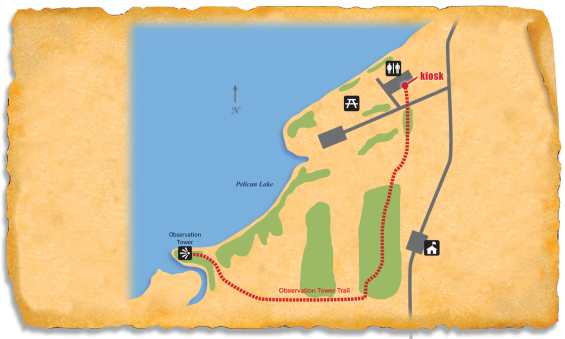 The Pelican Lake Recreation Area's TRACK Trail adventures are for use on the park's ObservationTower Trail, a 1 mile trail (2 miles round-trip) through open grasslands and mixed hardwood forests
Enjoy a nice view of Pelican Lake, shorebirds, and waterfowl in an observation tower located along an inlet to the lake. Pelican Lake is a popular stopping point for migrating waterfowl. Each fall, geese and ducks use the lake's open waters as a resting area. A variety of shore birds spend their entire summer in or near the park.
Most noticeable are the large white pelicans that frequent the lake. Pelicans were so numerous when the region was first settled that the lake was named in their honor. An observation tower on one of the hiking trails gives visitors a bird's-eye view of the area.
Track an adventure here

Location Details
Recreational Features:
Camping, Picnic Tables, Fishing, Interpretive Programs, Birding
Seasonality:
Open all year
Adventures for Pelican Lake Recreation Area
Directions
Latitude: 44.855266700000
Longitude: -97.208813900000