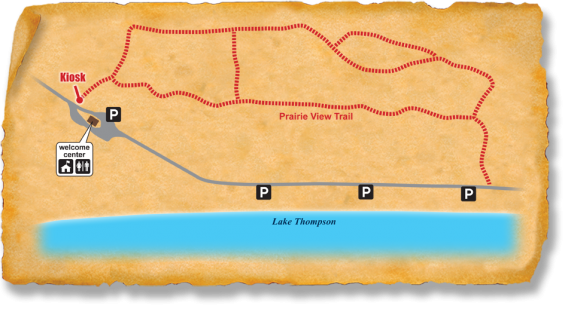 The Lake Thompson Recreation Area TRACK Trail adventures follow the Prairie View Trail.
The Prairie View Trail is an easy 1-mile loop, with the option of a shorter loop. The trail passes through a tall grass prairie and offers great views of one of the largest lakes in South Dakota. 
Originally called Dry Woods Lake by American Indians, the lake was renamed for Jacob Thompson, Secretary of the Interior under President James Buchanan. In the 1930s, the lake was completely dry and used for pasture. In the 1980s, the area was a 9,000-acre marsh. Heavy rains and snowmelt in the mid-80s filled the lake to over 20 feet deep. The lake is so distinct it was designated as a National Natural Landmark.
Have fun as you travel the trail, exploring the park and discovering its wonders!
Track an adventure here

Location Details
Recreational Features:
Paved Bike Path, Mountain Bike Trails, Canoe / Kayak, Camping, Picnic Tables, Fishing, Interpretive Programs, Birding
Seasonality:
Adventures for Lake Thompson Recreation Area
Directions
Latitude: 44.321875600000
Longitude: -97.444038200000
Northeastern South Dakota: 6 miles southwest of Lake Preston off US Hwy 14