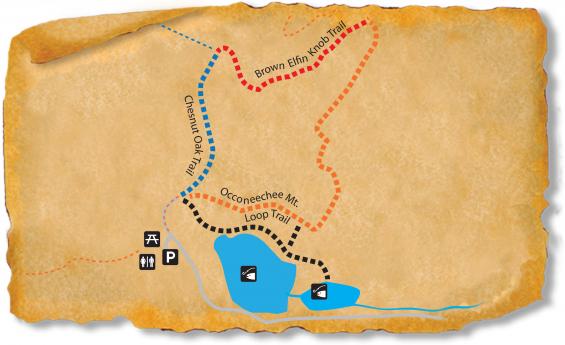 The Occoneechee Mountain TRACK Trail links three of the park's trails (Chestnut Oak, Brown Elfin Knob, and Occoneechee Mountain Trail) into an easy 0.7 mile loop. On the trail, you will hike through a diverse natural community with rare species that are found nowhere else in the Piedmont region. Enjoy the hike and discover the parks wonders.
Occoneechee Mountain State Natural Area offers a quick escape into nature with its three miles of trail exploring riverside forests, bluffs reaching to the highest point in the area and mountain laurel and rhododendron thickets. Visitors can fish in a pair of quiet ponds for bass and panfish or in the Eno River, either from the bank or by wading its shallows. Picnic grounds supply a grassy lawn and large, shading oaks. Rangers lead regular interpretive programs about the state natural area and its piedmont monodnock that supports species that are rare and significant in the region.
 
Excerpt from N.C. State Parks, Occoneechee Mountain State Natural Area.
Track an adventure here

Location Details
Recreational Features:
Picnic Tables, Fishing
Seasonality:
Open all year
Adventures for Occoneechee Mountain State Natural Area
Directions
Latitude: 36.059656700000
Longitude: -79.113908300000