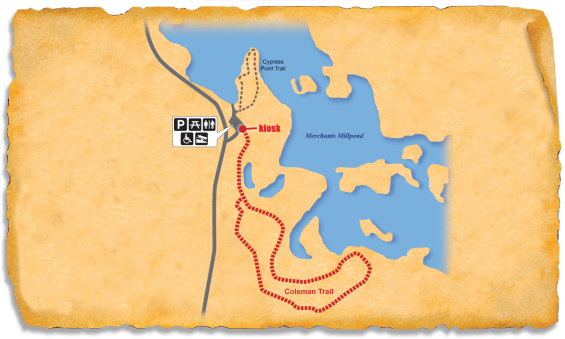 The Merchants Millpond State Park TRACK Trail follows the Coleman Trail, an easy and flat 2 mile loop. Enjoy a leisurely stroll through the forest while exploring the habitats that surround Merchants Millpond.
An "enchanted forest," primitive species of fish relatively unchanged over millions of years, towering bald cypress trees with massive trunks, luxuriant growths of Spanish moss - this is Merchants Millpond State Park. Here, coastal pond and southern swamp forest mingle, creating one of North Carolina's rarest ecological communities. Together with upland forests, these environments create a haven for wildlife and humanity alike.
Track an adventure here

Location Details
Recreational Features:
Canoe / Kayak, Picnic Tables, Interpretive Programs, Birding
Amenities:
Restrooms, Visitor Center, Gift Shop
Seasonality:
Open all year
Adventures for Merchants Millpond State Park
Directions
Latitude: 36.430863900000
Longitude: -76.697566700000
For directions and additional information, please click here for the Merchants Millpond State Park website. The TRACK Trail is located at the Cypress Point Trail/Coleman Trail parking lot. The Gatesville address will bring you to the park's visitor center; the GPS coordinates will bring you to the trailhead which south of the visitor center on Mill Pond Road.