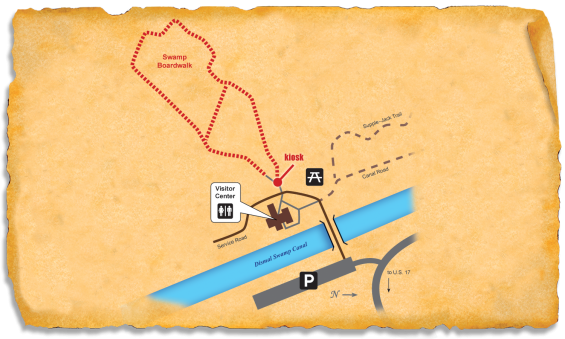 The Dismal Swamp State Park TRACK Trail follows the Swamp Boardwalk, an accessible half-mile loop. You can get a feel for the Swamp without getting your feet wet!
For those seeking more adventure, the park also offers more than 20 miles of hiking and biking trails following old logging roads through the Swamp forest. Or, enjoy a leisurely paddle along the historic Dismal Swamp Canal. Visitors may bring their own canoe/kayak and/or bike at no charge. Rentals are available for an hourly fee through the park office. 
Come see why George Washington called the Dismal Swamp "a glorious paradise," learn about the Swamp's rich cultural history as a home to maroons seeking freedom from enslavement, its role in the Underground Railroad, and the ecological importance of swamps and wetlands in the Visitor Center's exhibit hall. All of this and more can be found 3 miles south of the NC/VA border on US Hwy 17.
Track an adventure here

Location Details
Recreational Features:
Canoe / Kayak, Picnic Tables, Interpretive Programs, Birding
Amenities:
Restrooms, Visitor Center
Seasonality:
Adventures for Dismal Swamp State Park
Directions
Latitude: 36.504891700000
Longitude: -76.356183300000