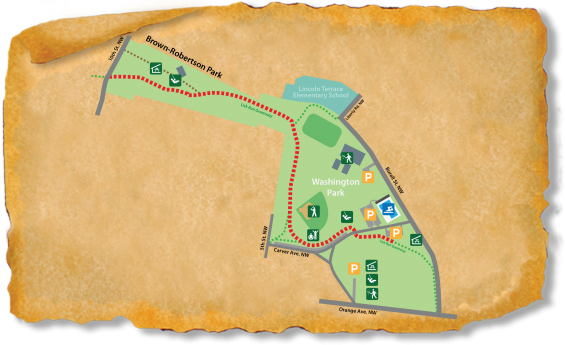 The Lick Run Greenway TRACK Trail is a 0.75-mile trail along the Lick Run Greenway. It begins in Washington Park, passes Lincoln Terrace Elementary School, and ends at Brown-Robertson Park.
Lick Run Greenway begins in the heart of downtown Roanoke passing through one of the roomier parks on the north side of town, Washington Park. Here you can find an array of facilities including one of Roanoke's two public outdoor swimming pools. There is also a playground, exercise equipment, a shelter, and restrooms. From Washington Park, you can walk to Brown-Robertson Park which features lush trees, wide fields, a shelter, and another playground. Parking is available near both parks.
Lick Run Greenway is a paved trail with a 4.1-mile section from downtown to Valley View Mall and a 0.5-mile section at Countryside Park. The greenway provides an excellent commuter route between the city's biggest commercial areas and offers a lovely respite for a nature walk or run. Unique features include a view of Mill Mountain Star from Washington Park. The creek and many large woodland trees provide habitat, where 94 species of birds have been documented. Farther west along Ferncliff Avenue, there are wide sidewalks, providing an on-road connection from Hershberger Road to the off-road section at Countryside.
Track an adventure here

Location Details
Recreational Features:
Paved Bike Path, Picnic Tables, Playground
Amenities:
Seasonality:
Open all year
Adventures for Lick Run Greenway
Directions
Latitude: 37.284567000000
Longitude: -79.943176000000