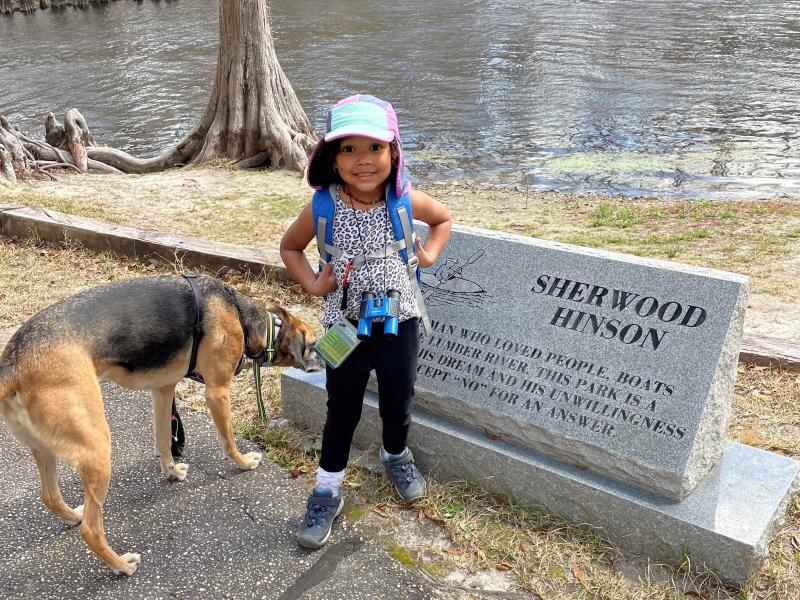 We are so proud of our Trail TRACKers, and that's why we like to recognize those who go out of their way to explore our trails. Each month, we honor at least one of these special explorers with the title of Trail TRACKer (or TRACKers) of the Month.
 
Meet Trail TRACKer of the Month Beverly!
What's your favorite TRACK Trail? Why?
Her favorite TRACK trail is at Medoc Mountain because of all of the activities on the trail. "I really loved the spider web, it was so fun and I got stuck in it."
What's your favorite TRACK Trail brochure adventure?
"My favorite TRACK activity is the Animal Athletes! I really love it and hopping like a frog!"
What's the most exciting wildlife you've ever seen on a TRACK Trail?
"The most awesome bird I've seen on a hike was a bald eagle!! He was so big!"
What's the longest hike you've ever done?
The longest hike she has completed was roughly 3.5 miles at Hanging Rock State Park.
What's the coolest trail experience you've ever had?
"The coolest thing was my hike when I got my hiking stick from other hikers (Her second long hike at Raven Rock State Park, a group of three found and gifted Beverly the most perfect hiking stick)! It was also so cool when I jumped in the river with the waterfall (Mayo River State Park), my toes were so cold!"
If you could go for a hike anywhere in the world, where would it be?
"I would hike at the mountains with my daddy."
Do you have any hiking tips for other Trail TRACKers?
"You have to have water so you can hydrate! Wear real hiking shoes, not normal sneakers, the hiking ones!!"
Check out this Trail TRACKer's favorite Kids in Parks places and activities!