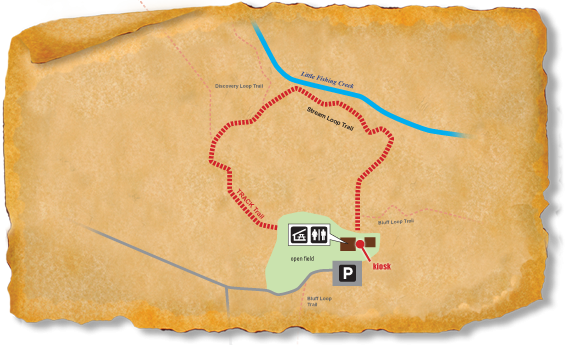 The Medoc Mountain State Park TRACK Trail follows the Stream Loop Trail, and easy 1 mile loop through a mixed hardwood forest, along a creek and through an open field.
At Medoc Mountain, the urban refugee finds a welcome tranquility, a chance to embrace the outdoors. Trails beckon as light filters through branches overhead and falls on paths that hold the promise of new frontiers. The peacefulness gives the opportunity to refresh. The silence of the forest is broken only by bird songs and the occasional drumming of the pileated woodpecker. Grab your hiking boots. Load your camera. Spend some time at Medoc Mountain State Park and let nature renew your spirit.
Track an adventure here

Location Details
Recreational Features:
Picnic Tables
Seasonality:
Open all year
Adventures for Medoc Mountain State Park
Directions
1541 Medoc State Park Road
Latitude: 36.246255000000
Longitude: -77.888783000000
Medoc Mountain State Park is located in Halifax County, 21 miles southwest of Roanoke Rapids, 23 miles north of Rocky Mount and 26 miles northeast of Louisburg.