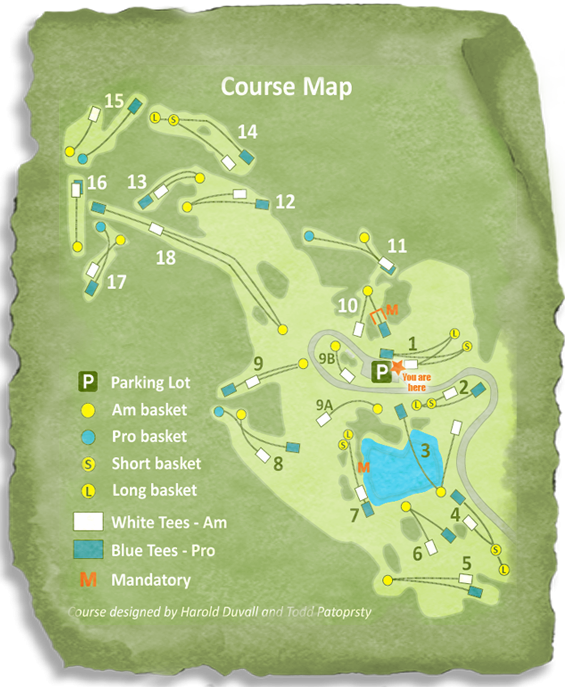 The Ashe County Disc Golf Course has been considered one of the top courses in North Carolina (and the United States) for several years. In fact, the course is currently ranked as the best course in NC, and in the Top 25 in the world according to discgolfcoursereview.com.
Designed by Harold Duvall, co-owner of Innova Disc Golf, the Ashe County Course offers both a Championship layout and Amateur layout. The park offers 20-holes of disc golf, with alternative Holes 8 and 9 allowing players to make a shorter loop. Concrete and/or platform rubber decked tee-pads and easy-to-spot DiscCatcher baskets have been installed on every hole courtesy of Innova Disc Golf.
The Nature Trail Disc Golf Course tee-signs were installed on the course's short tee-pads, allowing players to learn about the natural and cultural resources found on every hole. Each tee-sign also provides a Pro-Tip, giving novice players advice about proper techniques and various shots. The "Birdies" and "Tree Love" scorecards double as field guides, allowing players to identify birds and trees during their round.
The Ashe County Park Nature Trail Disc Golf Course: where beautiful Appalachian scenery combines with demanding shot requirements to create a disc golf experience seldom matched.
Track an adventure here

Location Details
Recreational Features:
Disc Golf, Picnic Tables, Fishing, Birding, Playground
Seasonality:
Adventures for Ashe County Park NTDGC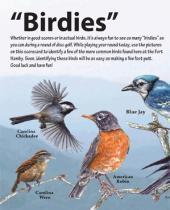 Disc Golf
Ashe County Birdies
Trail length:
1.00 mile
Whether in good shots or in actual birds, it's always good to see as many "Birdies" as possible during your round of disc golf. The "Birdies" scorecard/field-guide was designed to help players identify some of the more common birds found at in the Blue Ridge Mountains. How many "Birdies" will you see during your round today?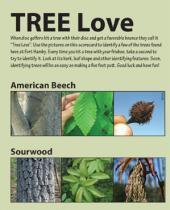 Disc Golf
Ashe County Trees
Trail length:
1.00 mile
When disc golfers hit a tree with their disc and get a favorable bounce, they call that "Tree Love". Use the pictures on this scorecard to identify a few of the trees found here. Every time you hit a tree with your frisbee, take a second to try to identify it. Look at its bark, leaf shape and other identifying features. Soon, identifying trees will be as easy as making a five foot putt.
Directions
Latitude: 36.434546700000
Longitude: -81.468539000000
For official directions call (336) 982-6185 or visit ashecountyparks.com
Directions are also available from The High Country Disc Golf Club.
From Boone, NC: Travel East on Hwy. 421 (about 10 min's.) to Hwy 221 North. Turn Left onto Hwy. 221 North.
From Wilkesboro, NC: Travel West on Hwy 421 (about 25 min's.) to Hwy 221 North (just past Parkway). Turn right onto Hwy. 221 North.
Take Hwy. 221 North towards Jefferson, NC for about 15-20 min's.
Go straight through first intersection w/ light (Hwy junction 221 and 163). Soon after, you will come to another intersection w/ light.  Continue North on Hwy. 221 for a couple more miles to the next intersection w/ light. That should be Long St. Take a left onto Long St. It dead ends pretty quickly into S. Main St. (no sign). There should be a Dollar Mart gas station on your right. Take a right onto S. Main St. and go straight through the next intersection w/ light (Yamaha dealer, Carolina Printing on corner's). Once you pass through that intersection the road changes to N. Main St. Just keep on going for a couple more miles until you see the Ashe Co. Park Sign on your left. Take a left onto Ashe Park Rd. and follow to park. Turn left into park, follow road around till you find a parking area w/ the course kiosk and Hole #1 nearby. Enjoy! Drive Safely.