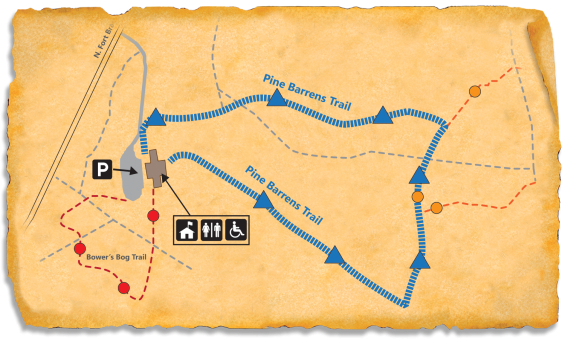 The Weymouth Woods Sandhills Nature Preserve TRACK Trail follows the 1.0 mile loop of the Pine Barrens Trail. With the trailhead conveniently located near the visitor center, this path will take you through a stand of open longleaf pine forest where you can enjoy many of the native plants that are found in the Sandhills region of North Carolina.
Designated in 1963 as the first State Natural Area in the North Carolina State Park system, Weymouth Woods has a top priority to protect and preserve the unique longleaf ecosystem that is found here. The other top priority is to educate visitors about this amazing ecosystem so they can enjoy and appreciate what a special place they're in as they wander the sandy trails.
Whether you're looking to find an endangered species such as the Red-cockaded Woodpecker, hoping to see a piece of land that has been recently burned by prescribed fire, or trying to fulfill your wish to stand next to the world's oldest living longleaf pine tree, Weymouth Woods has it all!
Track an adventure here

Location Details
Recreational Features:
Birding
Amenities:
Restrooms, Visitor Center, Gift Shop
Seasonality:
Open all year
Adventures for Weymouth Woods Sandhills Nature Preserve
Directions
Latitude: 35.145652100000
Longitude: -79.368831400000