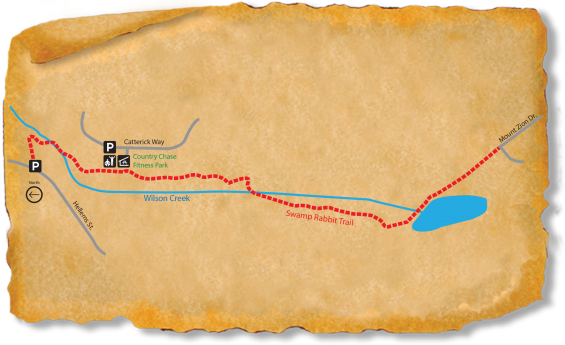 Enjoy both the natural and recreational assets of the trail as you follow Wilson Creek. There are plenty of stops to relax, play, or exercise.
The Swamp Rabbit TRACK Trail follows an easy, 1-mile section of the Swamp Rabbit Trail, from the Swamp Rabbit Trailhead on Hellams Street to Mount Zion Drive. Parking exists at both the trailhead and midway down the trail at the Country Chase Fitness Park.
The nearly 20-mile Prisma Health (formerly Greenville Health System) Swamp Rabbit Trail links cities in upstate South Carolina via a former railroad corridor. The section of Swamp Rabbit Trail in the city of Fountain Inn is the most recent addition.
The name Fountain Inn derives from the "inn with a fountain" that was located on a postal road between Laurens and Greenville. When a post office was established just south of the inn in 1832, the office was named Fountain Inn. Following the Civil War a store was opened, but no real center existed until after the 1886 arrival of the Charleston and Western Carolina Railroad. By the early twentieth century, the town had grown to over twenty businesses where local investors joined the late nineteenth-century textile boom that swept the upstate by opening the Fountain Inn Cotton Mill in 1898. Other textile mills followed, but Fountain Inn remained primarily a commercial hub for nearby farmers. Twentieth-century transportation developments reinforced Fountain Inn's prosperity, as the town straddled what emerged as a major north-south highway in the upstate.
Track an adventure here

Location Details
Recreational Features:
Picnic Tables
Amenities:
Seasonality:
Open all year
Adventures for Swamp Rabbit Trail - City of Fountain Inn
Directions
Latitude: 34.705682379139
Longitude: -82.193092240594
Address leads to Swamp Rabbit trailhead. To travel to the Country Chase Fitness Park, midway along the TRACK Trail, travel to 136 Catterick Way, Fountain Inn.