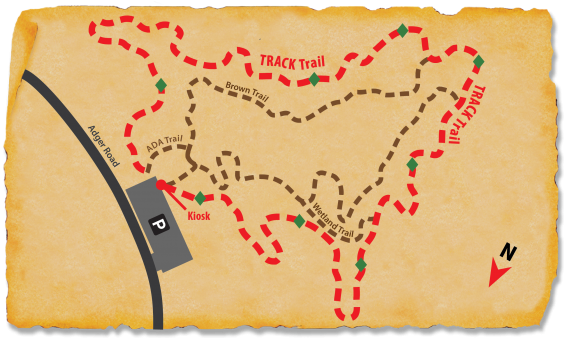 _
The TRACK Trail at Nalley Brown Nature Park is a 1.5-mile loop and follows the Nalley Trail marked with green trail markers. This trail forms the outer loop of the park that will guide you through the 150-year-old family property donated by the Nalley and Brown families. 
Along the way, visitors will be able to experience the natural scenery of the park, including unique plants and a creek that attract a variety of wildlife. This adventure will take you on dirt paths and over wooden bridges, and you can choose to explore even further on other trails within the park. 
For information about amenities and to see the official park page, click here.
Track an adventure here

Location Details
Recreational Features:
Picnic Tables, Birding, Playground, Photography, Running
Amenities:
Seasonality:
Open all year
Adventures for Nalley Brown Nature Park
Directions
Latitude: 34.799690249147
Longitude: -82.617767686590
Partners
Easley Parks & Recreation