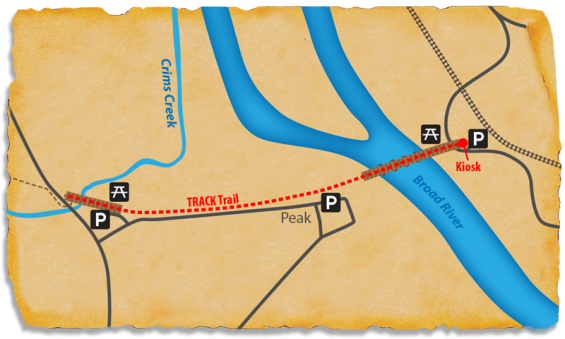 The Peak to Prosperity TRACK Trail is an easy 1-mile out-and-back hike along an historic train route.
Built on the original railroad foundation, the trail takes hikers across two trestles (bridges) and past several historic features.
Starting in the extinct town of Alston, hikers immediately step onto the first trestle which crosses the Broad River. The trestle provides great views of the river and is a great place to watch for wildlife like birds, turtles, and otters.
The trail then leads past the town of Peak and through a peaceful forest of pine, oak, and maple trees. The second trestle crosses Crim's Creek. At the end of the trestle you will have hiked 1 mile. There are stairs that will take you down to a picnic area where you can relax by the water.
Track an adventure here

Location Details
Recreational Features:
Picnic Tables, Birding, Photography, Running
Amenities:
ADA Compliant:
Seasonality:
Open all year
Adventures for Peak to Prosperity - Palmetto Trail
Directions
Little Mountain
,
SC
29075
Latitude: 34.243632000000
Longitude: -81.317985000000