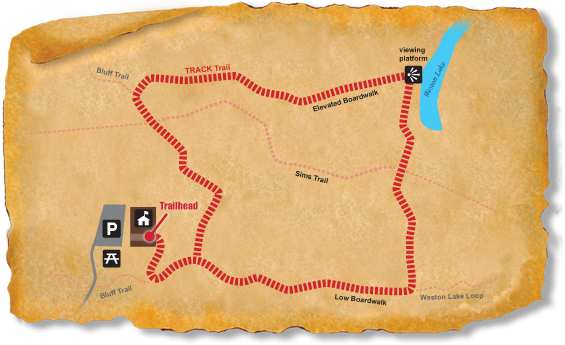 The Congaree National Park TRACK Trail is a flat 2.4 mile loop through a floodplain forest on boardwalks. Congaree National Park is home to one of the few old-growth floodplain forests east of the Mississippi River. With trees an average of 130 feet, the forest at Congaree is one of the tallest broad-leaved (or deciduous) forests in North America! Grand bald cypress, water tupelo and loblolly pine trees surround you along this trail.
Astonishing biodiversity exists in Congaree National Park, the largest intact expanse of old growth bottomland hardwood forest remaining in the southeastern United States.  Waters from the Congaree and Wateree Rivers sweep through the floodplain, carrying nutrients and sediments that nourish and rejuvenate this ecosystem and support the growth of national and state champion trees.
Track an adventure here

Location Details
Recreational Features:
Canoe / Kayak, Camping, Picnic Tables, Interpretive Programs, Birding
Amenities:
Restrooms, Nature Center, Visitor Center
Seasonality:
Open all year
Adventures for Congaree National Park
Directions
Latitude: 33.829619500000
Longitude: -80.823375400000
Congaree National Park is located off of Old Bluff Rd in Hopkins, South Carolina. At the large park entrance sign, turn onto the park entrance road and proceed one mile to the Harry Hampton Visitor Center parking lots. For more detailed directions, please visit the park's website.