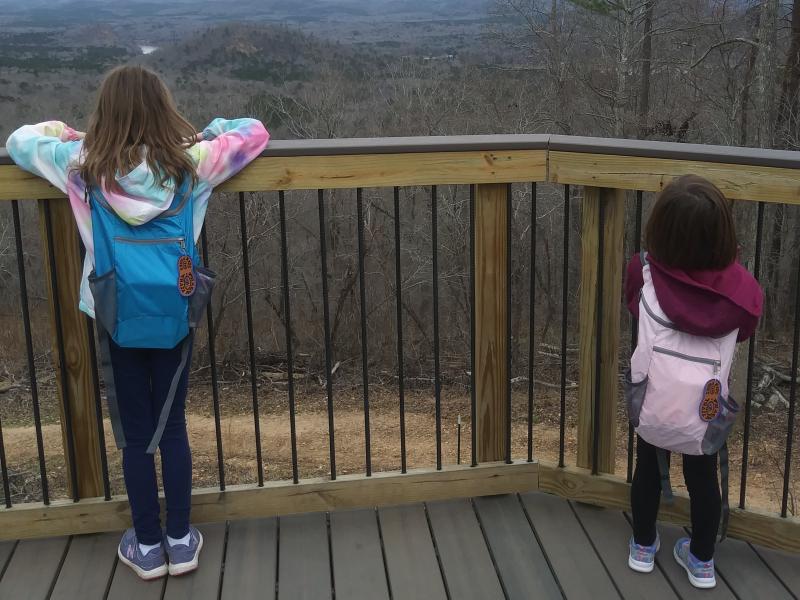 We are so proud of our Trail TRACKers, and that's why we like to recognize those who go out of their way to explore our trails. Each month, we honor at least one of these special explorers with the title of Trail TRACKer (or TRACKers) of the Month.
 
Meet Trail TRACKers of the Month Rachel and Kirsten!
What's your favorite TRACK Trail? Why?
"The trails with waterfalls are our favorites. Especially Hanging Rock and South Mountains State Parks. Some of our other favorite places have been Mt Mitchell, NC because it was super windy when we were there but the abundance of pine trees made the whole hike smell like Christmas trees (and it was summertime). We also loved the TRACK Trail history lessons like at the Landsford Canal State Park in South Carolina which has lovely canal ruins that make the hike exciting."
What's your favorite TRACK Trail brochure adventure?
"Rachel and Kirsten love the Animal Athletes brochure and often repeat that adventure when we hike. They love using their imaginations and pretending to be animals in the woods."
What's the most exciting wildlife you've ever seen on a TRACK Trail?
"The only wildlife we have seen on our hikes have been birds and spiders."
Why do you enjoy TRACK Trails?
"Since I have a 9 and 5-year old, I look specifically for TRACK Trails for 2 reasons. 1: I feel reassured it will be a trail that my youngest can physically handle, and 2: that since it is geared for kids, it will be an enjoyable experience for my girls with fun activities or a point of interest along the way. I want to make hiking fun for them and not be just another walk in the woods. The girls also like to collect stickers for all the TRACK Trails and enjoy the gifts in the mail." 
If you could go for a hike anywhere in the world, where would it be?
"Our family has been hiking about every month for the past year. It has been so important for us to get into nature, especially with all the restrictions we experienced with covid and having to stay home. Hiking is a safe way to exercise and spend quality family time in the fresh air. We love it! I (Casey, the mom) have been trying to go to every North Carolina state park as a self-imposed goal."
Do you have any hiking tips for other Trail TRACKers?
"Tips for other trackers would be to bring along a journal. My girls often enjoy stopping for a break to sketch the beautiful nature around them or do leaf rubbings."
Check out these Trail TRACKers' favorite Kids in Parks places!