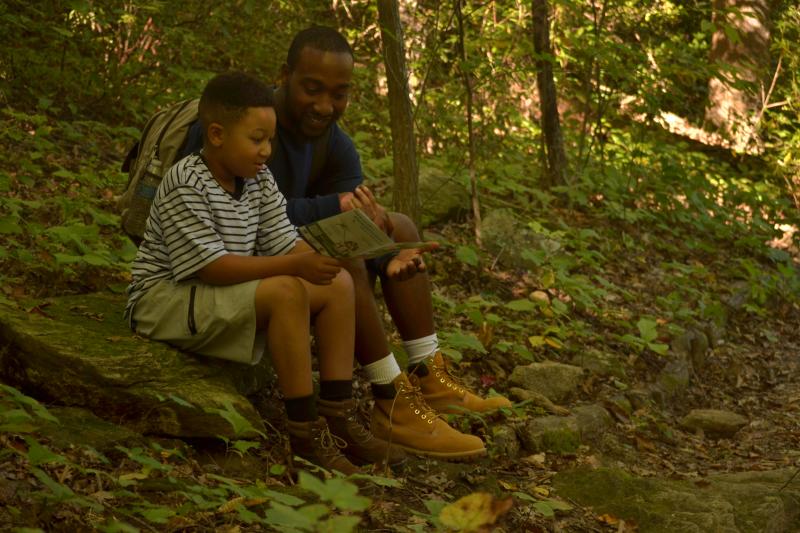 To ring in the new year, the South Carolina State Park Service partnered with Kids in Parks to install four new TRACK Trails. Kids and families were invited to hike the newly opened trails on Friday, January 1 as part of First Day Hikes, an initiative led by America's State Parks to encourage people to get outdoors. Our new TRACK Trails include Sesquicentennial State Park, Battle of Musgrove Mill Historic Site, Landsford Canal State Park, and Table Rock State Park.
"We're proud to partner with the Kids in Parks program to provide additional options for families who use our trails," said Paul McCormack, director of the State Park Service. "The program's activities and incentives should enhance the visitor experience and encourage them to spend more time in the outdoors."
New adventure brochures will let you explore the unique environments and histories of these parks. You can learn about the structure of the Landsford Canal, join the Patriots or the Loyalists in the Battle of Musgrove Mill, or learn how fire can be an important part of an ecosystem at Table Rock.  
These four new trails are part of a network of 10 TRACK Trails in South Carolina, thanks to a grant by the BlueCross BlueShield of South Carolina Foundation.
"We are proud to support the TRACK Trails in South Carolina," said Erika Kirby, Executive Director of the BlueCross BlueShield of South Carolina Foundation. "Kids benefit from being physically active. Only half of South Carolina's youth get regular exercise. We see the benefit of this partnership to promote physical activity, which can establish life-long habits that can help decrease the risk of chronic diseases, including diabetes."
In addition to the trail locations, physicians throughout the state will begin prescribing outdoor recreation for the health of their patients. This prescription initiative is part of the national Park Prescriptions movement in which healthcare providers are recognizing the important health benefits associated with spending time outdoors in nature. Plan your trip to our new South Carolina trails today!
The BlueCross BlueShield of South Carolina Foundation is an independent licensee of the Blue Cross and Blue Shield Association.
About the Blue Ridge Parkway Foundation
Founded in 1997, the Blue Ridge Parkway Foundation is the primary nonprofit fundraising partner for the Blue Ridge Parkway, one of the country's most visited national park units. Learn more at BRPFoundation.org.