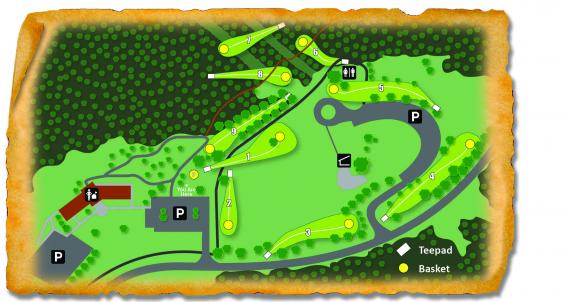 The Seven Points - Pine Nine Nature Trail Disc Golf Course utilizes a mixture of open and wooded fairways that will challenge both beginner and expert level disc golfers. The 9-hole course measures in at just under a half mile in length, making it an excellent course to warm up on or get in a quick round.
As you make your way around the course, utilize the tee-signs to learn about some of the natural, cultural, historical, and recreational resources found at Raystown Lake. Each of the signs offers information about the rules of play for that hole; as well as an interpretive message about Raystown Lake, and a Pro-Tip from the 2017 U.S. Disc Golf Champion, Nate Sexton. 
When you're done with your round, don't forget to check out the other outdoor recreation options at Raystown Lake. Seven Points also offers a professional 18-hole disc golf course that starts on the other side of the road. Additionally, visitors can find swim beaches, fishing areas, boat launches, several miles of hiking and mountain bike trails, as well as multiple campground facilities.
Come for a round. Come for the day. Come for an entire weekend of outdoor activity!
Track an adventure here
Location Details
Recreational Features:
Mountain Bike Trails, Disc Golf, Canoe / Kayak, Camping, Picnic Tables, Fishing
Amenities:
Restrooms, Visitor Center, Gift Shop
Seasonality:
Open all year
Adventures for Seven Points - Pine Nine NTDGC
Disc Golf
Tree Love
Trail length:
1.00 mile
When disc golfers hit a tree with their disc and get a favorable bounce, they call that "Tree Love." Use the pictures on this scorecard to identify a few of the trees found here at Raystown Lake. Every time you hit a tree with your frisbee, take a second to try to identify it. Look at its bark, leaf shape and other identifying features. Soon, identifying trees will be as easy as making a five foot putt.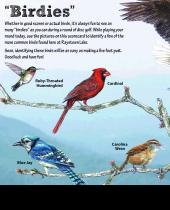 Disc Golf
Birdies
Trail length:
1.00 mile
Whether in good shots or in actual birds, it's always good to see as many "Birdies" as possible during your round of disc golf. The "Birdies" scorecard/field-guide was designed to help players identify some of the more common birds found here at Raystown Lake. How many "Birdies" will you see during your round today?
Directions
Latitude: 40.380760000000
Longitude: -78.076553000000
The Seven Points - Pine Nine NTDGC is located directly adjacent to the Raystown Lake Visitor Center. Hole 1 is located at the southern tip on the main parking lot.
Partners
U.S. Army Corps of Engineers