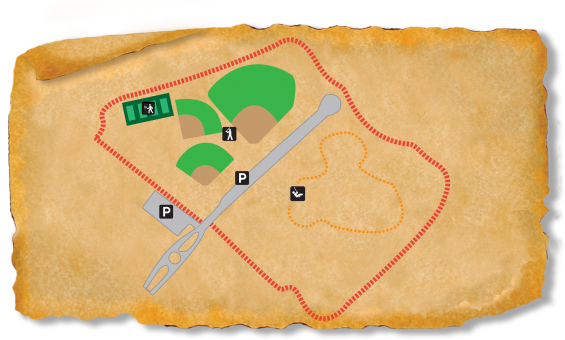 The trail system in the park features a 9/10 of a mile Fitness Trail that has several exercise stations along the route, as well as a 4/10 of a mile Nature Trail with interpretive stations and storm shelters. Although the Fitness Trail was designated as the TRACK Trail in the park, the self-guided brochures can be used on either the Fitness Trail or Nature Trail, or anywhere else in the park.
With its numerous recreation fields, walking trail, nature trail and picnic areas, it's easy to see why Onslow Pines Park is one of the premier recreation facilities in Jacksonville. The park has regulation sized baseball, softball, little-league baseball, football, and soccer fields, as well as 3 volleyball, 4 lighted tennis, and 2 lighted basketball courts, offering plenty of opportunities for sports fans to get active. There park also provides two covered pavilions with cooking stations, five designated picnic areas, playgrounds and other leisure features for folks wanting to enjoy time outside.
Have fun exploring Onslow Pines Park and recreating outdoors!
Track an adventure here

Location Details
Recreational Features:
Picnic Tables, Playground
Amenities:
Restrooms, Visitor Center
Seasonality:
Open all year
Adventures for Onslow Pines Park
Directions
Latitude: 34.726919500000
Longitude: -77.484664800000
Located 3 miles south of Jacksonville on Onslow Pines Road (NC State Road 1116); turn at the Harley Davidson Store