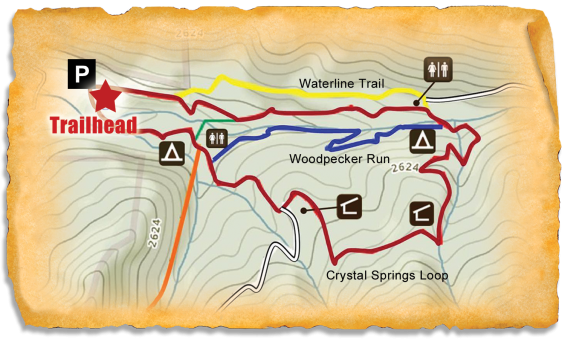 Nestled in the rolling foothills of the Blue Ridge Mountains, Wytheville boasts lots of recreation opportunities! Conveniently located at the crossroads on Interstate 77 and 81, this small town welcomes visitors with endless opportunities to relax, have fun and spend time outdoors with the family. The Town of Wytheville's Crystal Springs Recreation Area is located on 1800 acres of town property separated from the actual town by Sand Mountain. The recreation area is surrounded by the 7500 acre Big Survey Wildlife Management Area, managed by the Virginia Department of Game and Inland Fisheries. The focal point of the trail system is the old reservoir located on the main stream that cuts through the property, Venrick Run. The reservoir was built in the early 1900's with hopes that it would be the town's main water source; however, there was not enough water volume so the reservoir was used as a supplemental source of water for the town instead.
The Crystal Springs Recreation Area offers trails of various lengths and difficulty, beautiful farmland and forests, a crystal clear mountain stream flowing out of the town's old reservoir for which the area was named, and of course TRACK Trail enhancements such as self-guided brochures, interpretive signage and discovery stations. As you begin you're adventure, be sure to grab a TRACK Sack from one of the check out bins. TRACK Sacks are loaded with gear to help kids and families find more fun during their TRACK Trail adventure. When you get to the Aquatic Discovery Station, use the nets and magnifying lenses to explore the creek at the aquatic discovery station, or when you get to the Bird Discovery Station, use the binoculars and field guides at to connect with some of the birds and other wildlife found in the area.
Please note: about 0.4 miles beyond the reservoir, the Rocky Road Trail borders a hunting zone.
 
Track an adventure here

Location Details
Recreational Features:
Mountain Bike Trails, Picnic Tables, Fishing, Interpretive Programs, Birding
Seasonality:
Open all year
Adventures for Crystal Springs Recreation Area
Directions
Latitude: 36.899504200000
Longitude: -81.093692100000
From Interstate 81:
Take Exit 70 to Route 21 South
At the bottom of the ramp, take Route 21 South
Follow Route 21 South approximately 1 mile
Turn right onto Route 21 South (W. Main Street)
Follow Route 21 South approximately 3 miles
Turn Left on Pump Hollow Rd.
Follow Pump Hollow Rd 1 miles
Parking area on Left From
Interstate 77 North:
Take Exit 40 off of I-77 on to I-81 South
Follow I-81 South for approximately 1.5 miles
Take Exit 70 to Route 21 South
At the bottom of the ramp, turn left onto Route 21 South
Follow Route 21 South approximately 1 mile
Turn right onto Route 21 South (W. Main Street)
Follow Route 21 South approximately 3 miles
Turn Left on Pump Hollow Rd.
Follow Pump Hollow Rd 1 miles
Parking area on Left
From Interstate 77 South:
Merge on to I-77 North/I-81 South
Follow I-77 N/I-81 S for approximately 8.5 miles
Stay on I-81 South (I-77 N will split off to the right)
Follow I-81 South for approximately 2 miles
Take Exit 70 to Route 21 South At the bottom of the ramp, turn left onto Route 21 South
Follow Route 21 South approximately 1 mile
Turn right onto Route 21 South (W. Main Street)
Follow Route 21 South approximately 3 miles
Turn Left on Pump Hollow Rd.
Follow Pump Hollow Rd 1 miles
Parking area on Left
From the Blue Ridge Parkway:
Exit the Blue Ridge Parkway at Fancy Gap
Follow 52 North (Fancy Gap Hwy) for approximately 1 mile
Turn Left onto 148
Follow 148 for .7 miles
Merge onto I-77 North Follow I-77 North for approximately 23 miles
Merge on to I-77 North/I-81 South
Follow I-77 N/I-81 S for approximately 8.5 miles
Stay on I-81 South (I-77 N will split off to the right)
Follow I-81 South for approximately 2 miles
Take Exit 70 to Route 21 South
At the bottom of the ramp, turn left onto Route 21 South
Follow Route 21 South approximately 1 mile
Turn right onto Route 21 South (W. Main Street)
Follow Route 21 South approximately 3 miles
Turn Left on Pump Hollow Rd.
Follow Pump Hollow Rd 1 miles
Parking area on Left
GPS Directions:
723 Pump Hollow Lane
Wytheville, VA 24382