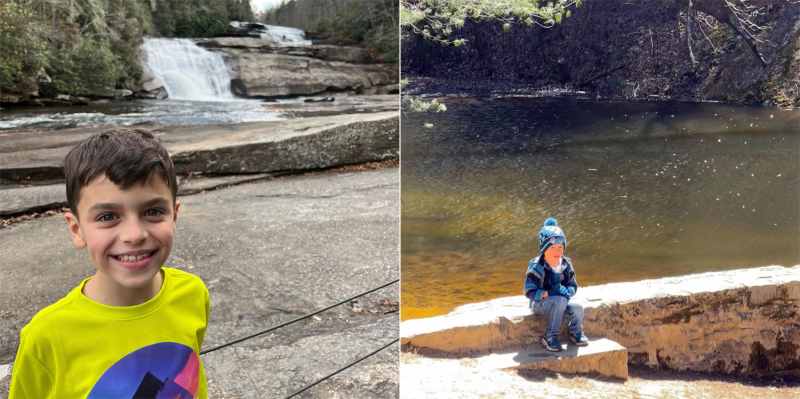 We are so proud of our Trail TRACKers, and that's why we like to recognize those who go out of their way to explore our trails. Each month, we honor at least one of these special explorers with the title of Trail TRACKer (or TRACKers) of the Month.
 
Meet Trail TRACKers of the Month Benjamin and Declan!

What's your favorite TRACK Trail? Why?
"Carl Sandburg is our favorite. We have been going there since we were born. Our dog loves to go with us and we love to see the goats!"

What's your favorite TRACK Trail brochure adventure?
"We really like Nature's Hide & Seek. We get to look for all the different things in the brochure as we hike and learn about them."

What's the most exciting wildlife you've ever seen on a TRACK Trail?
"A hawk! That is our Dad's favorite bird."

What's the longest hike you've ever done?
"5 miles!"

What's the coolest trail experience you've ever had?
"We were in Pisgah and we hiked for a long time, but at the top, we got to sit on a big rock and look at the mountains. A lot of our friends went and we all had fun. There was a cave between some of the big rocks and we got to squeeze through it."

If you could go for a hike anywhere in the world, where would it be?
"Great Wall of China!"

Do you have any hiking tips for other Trail TRACKers?
"Watch where you are going and don't trip!" - Benjamin
"Plan your route so you know where you are going." - Declan

Check out these Trail TRACKers' favorite Kids in Parks places and activities!