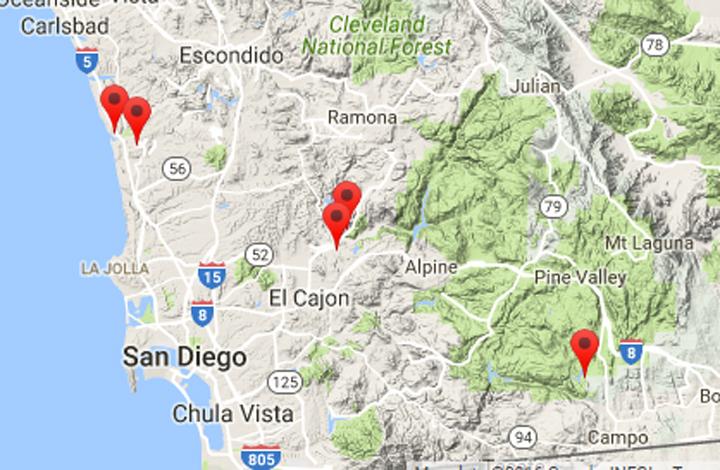 Three years ago, Kids in Parks installed three TRACK Trails in partnership with San Diego County Parks. One of the trails, the San Elijo Lagoon Ecological Preserve, has been the program's most registered TRACK Trail three years in a row. Because of this success, the county recently partnered with Kids in Parks to install two new TRACK Trails, giving kids and families from the region a total of five locations to get outdoors and active in parks!
On August 26, the San Diego County Parks and Kids in Parks staffs gathered at San Dieguito County Park to cut the ribbon, celebrating the grand opening of that trail, and the TRACK Trail at Lake Morena County Park. 
The San Dieguito County Park TRACK Trail is unique in that it has a series of hillside ladders, swinging bridges, lookout towers, and other features, making it a fun trek loaded with activities to get kids excited about spending time outdoors. The TRACK Trail at San Dieguito has two site-specific brochures that guide kids around the park. One of the brochures leads them around the park's entire trail system, including Activity Hill. The other brochure leads kids of all abilities on a senses safari through the park's ADA Trail. On this trail, kids are prompted to interact with various plants and animals with their hands, nose, eyes and ears.
The Lake Morena TRACK Trail is located in the south-east part of the County. The trail is a 1-mile long loop trail that meanders through chaparral woodlands, and the TRACK Trail brochures provide kids with scavenger hunt activities designed to get them scouting the park for natural resources. In addition to the TRACK Trail activities, visitors to Lake Morena can go boating, fishing, hiking, picnic, camp and use the park's other amenities to enjoy a day outdoors!
For more information about all five TRACK Trails in San Diego County, including trail descriptions, driving directions, and brochure downloads, click here.