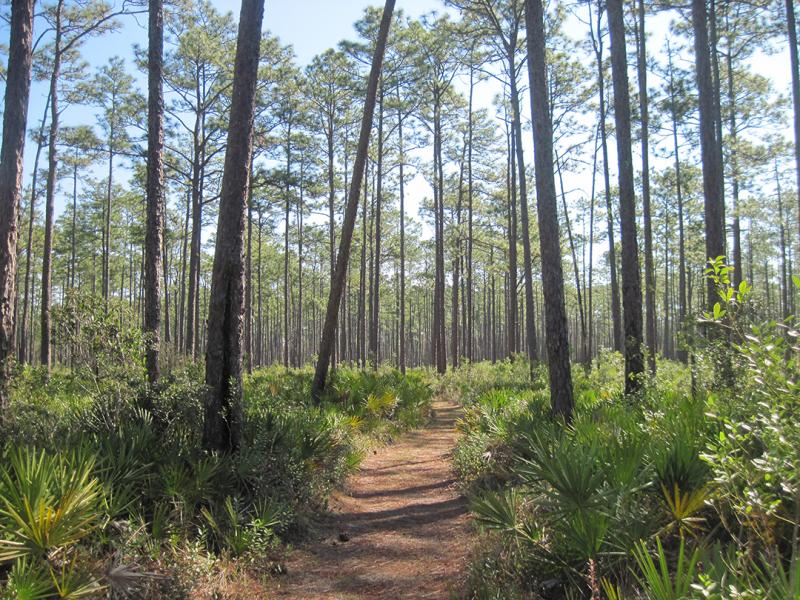 While we're always excited to announce new TRACK Trails in our network, we're especially excited to announce the addition of new trails in a NEW STATE. Just in time for your fall hikes, we welcome the land of oranges and alligators with three new trails that are open and ready for upcoming adventures!
 
3 New TRACK Trails in the Sunshine State!
Morningside Nature Center - Gainesville, FL 

Morningside Nature Center features one of the last remaining examples of fire-dependent longleaf pine woodlands in the area. This means that this habitat relies on occasional wildfires to stay healthy and thriving. Across Morningside's 278 acres, there are seven miles of trails through flatwoods, sandhills, and cypress domes, with spectacular wildflower displays where you can spot diverse wildlife like deer, turkeys, turtles, gopher tortoises, skunks, and numerous birds.
TRACKers can also experience the Living History Farm, which re-creates a 19-century, single-family rural home with live demonstrations on the first Saturdays of the month (September to May). At the farm, you'll find a cabin, a board and batten kitchen, a barn, a schoolhouse, an heirloom garden, and farm animals. 
Inside the nature center, live reptiles and amphibians, as well as taxidermy animals are on display for guest viewing. And during the fall, TRACKers can take advantage of a fall wildflower walk held every Saturday in October, as well as a native plant sale.
The Morningside Nature Center TRACK Trail is an easy 1-mile out-and-back hike with a lot to see along the way. It travels along a boardwalk through the cypress domes and then to the Living History Farm.  
Loblolly Woods Nature Park - Gainesville, FL 
Loblolly Woods Nature Park is one of ten parks that make up the City of Gainesville's Hogtown Creek Greenway Parks. This park protects 159 acres of lushly forested bottomland along Possum Creek and Hogtown Creek. The namesake loblolly pines are some of the largest in the region, and in the spring, TRACKers can expect a carpet of wildflowers on the forest floor.

The TRACK Trail at Loblolly Woods Nature Park is an easy 0.4 mile (one-way) out-and-back hike along a path near the banks of Hogtown and Possum Creeks. A high canopy of loblolly pines, live oaks, southern magnolias, and a variety of other tree species shade the entire hike. There are many spots with views of Hogtown Creek where you can relax and listen to the sounds of the water. About halfway through, an observation platform looks out over a willow marsh, an open area that's great for bird watching.
Hogtown Creek Headwaters Nature Park - Gainesville, FL
Another stop on the City of Gainesville's Hogtown Creek Greenway Parks, this park is the site of a historic dairy farm built in 1889. At that time, Gainesville was a small city of fewer than 3,000 people and the farm was an important resource for the community. The original farmhouse still stands as the Nature Center in the park. 

The TRACK Trail at Hogtown Creek Headwaters Nature Park is a 0.5-mile round trip hike through a forest of pine and live oak. Along the trail, you may find all kinds of exciting plant and animal life; birds calling out from the trees or resurrection ferns bursting back to life after a fresh rain. Mushrooms and lizards are also common sights along the forest floor.