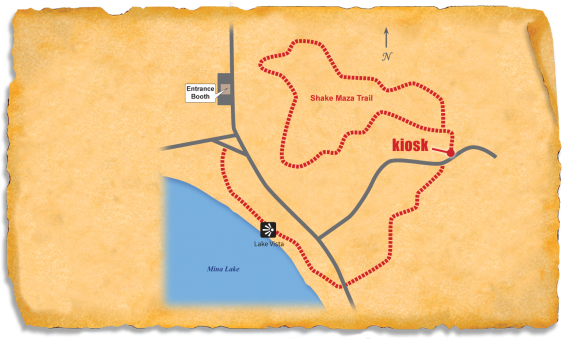 The Mina Lake Recreation Area TRACK Trail adventures are for use on the park's Shake Maza Trail.
This flat ¾ mile trail winds through woodland areas and along the shore of Mina Lake. Enjoy seeing a variety of native trees, grasses, flowers, and birds.
Nestled along the wooded shores of Mina Lake, Mina Recreation Area is a water-lover's haven with plenty of room for boating, fishing and swimming. When you leave the water, a spacious campground, hiking trail, and several picnic areas provide hours of family fun.
Mina was one of the first man-made lakes in northeast South Dakota. Its beginning dates back to the 1930s, when area residents sought relief from years of drought. In 1934, the Mina Dam was completed and the lake was named Shake Maza, a Lakota word for "shaped like a horseshoe." The name never quite caught-on, however, and it was later renamed in honor of a railroad president's daughter.
Track an adventure here

Location Details
Recreational Features:
Canoe / Kayak, Camping, Picnic Tables, Fishing, Interpretive Programs, Birding
Seasonality:
Open all year
Adventures for Mina Lake Recreation Area
Directions
Latitude: 45.443883300000
Longitude: -98.737500000000