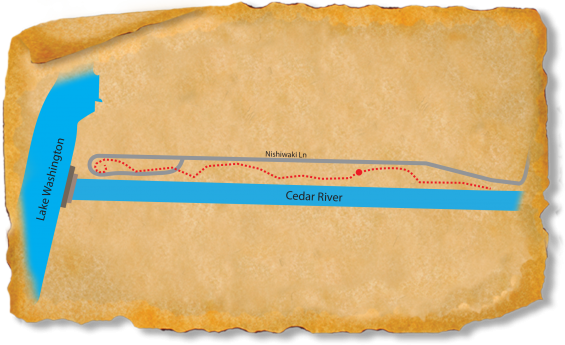 Scenic Cedar River Trail Park is located at the mouth of the Cedar River where it flows north into Lake Washington. This 24-acre park contains picnic areas that are close to the water, play equipment, a non-motorized boat launch, the Renton Rowing Center and the Cedar River Trail. A beautiful spot for viewing birds of all species including blue herons, ospreys, and bald eagles, it is also a place to witness the annual salmon migration in the Cedar River Watershed.
The Cedar River Trail is a paved, multi-use trail that follows the Cedar River from where it enters Lake Washington to the community of Landsburg – 17.3 miles – at the boundary of the City of Seattle's Cedar River Watershed. The trail follows a historic railroad route along State Route 169, and offers views and access to Lake Washington, downtown Renton, Cedar River Park, Maplewood Golf Course, Ron Regis Park, Cedar Grove Park, and Maple Valley.
Track an adventure here

Location Details
Recreational Features:
Canoe / Kayak, Picnic Tables, Fishing, Birding, Playground, Photography, Running
Seasonality:
Open all year
Adventures for Cedar River Trail Park
Directions
Latitude: 47.499126000000
Longitude: -122.214645000000
Exit 5 from I-405, west on Southport Drive N and continue straight to Logan Ave N, right on N 6th Street to Cedar River Trail Park entrance.
From Highway 167 continue north on Rainier Ave S, turn right on Airport Way and curve left to Logan Ave N, left on N 6th Street to Cedar River Trail Park entrance.