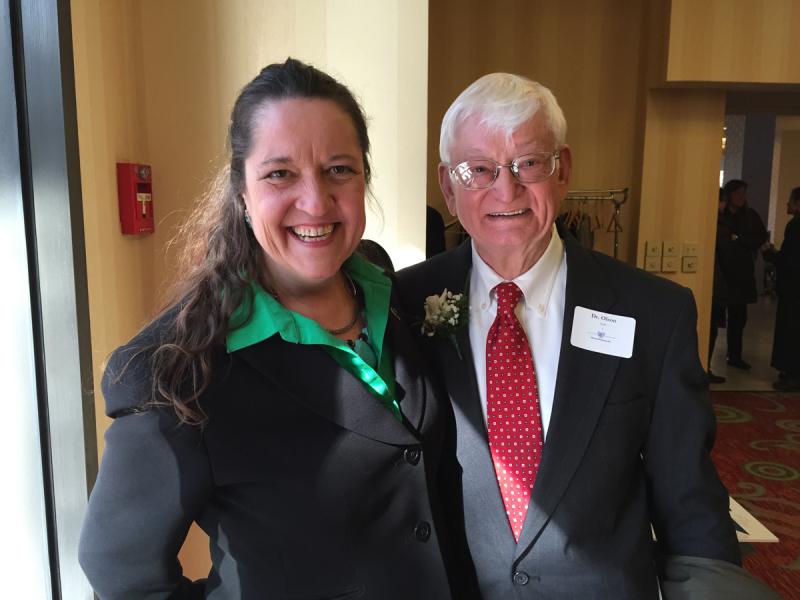 In 2008, Dr. Olson Huff approached the Blue Ridge Parkway, Blue Ridge Parkway Foundation, and the Blue Cross and Blue Shield of North Carolina Foundation about creating a program designed to get kids and families to think about the Blue Ridge Parkway (and all of our parks and public lands) as resources to improve their health. A short time later, the idea came to fruition with the creation of Kids in Parks. Today, the Kids in Parks program is a national network of more than 100 TRACK Trails, linking the health of our kids and families to the health of our parks and green spaces.
In addition to his efforts in forming the Kids in Parks program, Dr. Huff has successfully raised funds for, and created, numerous programs that impact the daily lives of children and their families in Western North Carolina and beyond. Today, Dr. Huff was honored with the Summit Award by the Association of Fundraising Professionals for his life-long efforts in fundraising for programs that increase the quality of life for our communities. This is only the fifth time in the Association's 23-year history that it has selected a recipient for the prestigious Summit Award.
Here are some of the many accomplishments Dr. Huff has achieved during distinguished career:
- Creation of the Child Development Program that would go on to become Smart Start
- Led fundraising efforts to create the Children's Hospital and Reuter Outpatient Center at Mission Hospital
- The creation of the Toothbus, which provides dental care for underserved children in rural Western North Carolina
- Past president of the North Carolina Chapter of the American Academy of Pediatrics
- Spearheaded the statewide NC Child initiative
- Founder and chairman of the Kids in Parks program
At the Blue Ridge Parkway Foundation and Kids in Parks, we are extremely proud of the relationship we have with Dr. Huff. His vision for reconnecting kids and families with the outdoors to improve their overall health has resulted in thousands of healthy, future stewards for the Parkway and other natural areas.
Congratulations on the well-deserved recognition, Olson!