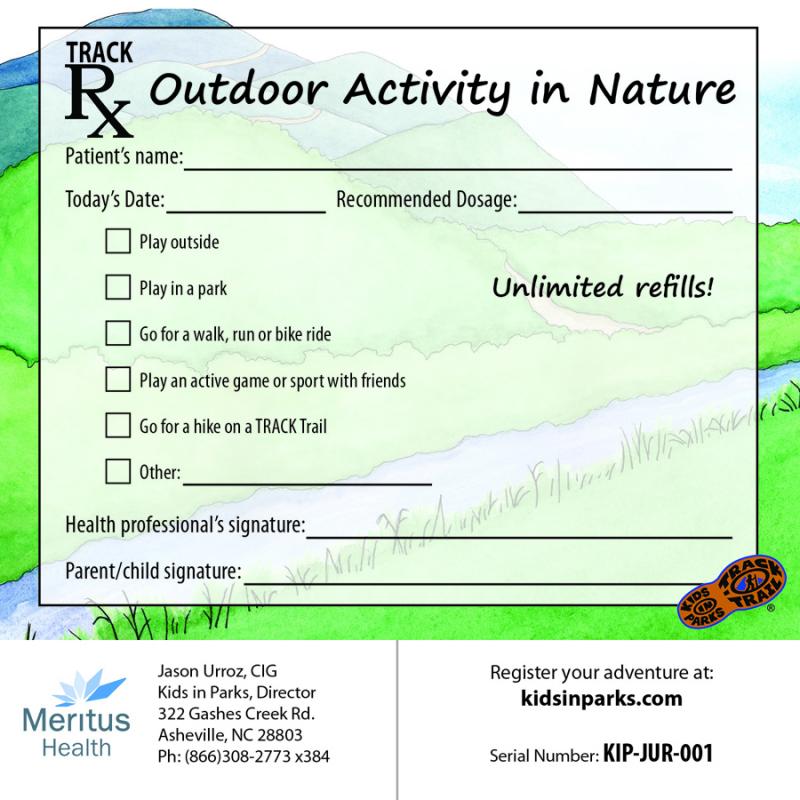 The TRACK Trails at the C&O Canal National Historical Park, Catoctin Mountain Park, Monocacy National Battlefield, and Antietam National Battlefield are about to be inundated with Trail TRACKers. That's because Kids in Parks has formed a partnership with Meritus Health, a hospital system in Washington County, Maryland, to expand their TRACK Rx program.
Miniature Kids in Parks trailhead signs will be displayed in eight doctor offices and hospital locations in the system, and forty two of their doctors and health care providers have custom prescription pads allowing them to write prescriptions for outdoor activity and TRACK Trail adventures for their patients. 
The displays, TRACK Rx brochures, and Rx Pads are going to introduce a lot of kids and families to the program, and the parks that have TRACK Trails in the region", said Jason Urroz, Director of Kids in Parks. "As more and more kids and families register their TRACK Rx's through our website, we hope to prove that ParkRx interventions are successful in getting our kids and families active outdoors in our parks and public lands, bringing more doctors and health-care providers into the program."
Kids in Parks now has 12 doctor office and hospital locations displaying TRACK Rx materials, and more than 50 doctors and health-care providers writing prescriptions for kids to get unplugged, outdoors, and active on TRACK Trails for their health, making the TRACK Rx program one of the largest ParkRx programs in the country. And, we are just getting started. The program is going to keep expanding! 
If you have a local pediatrician or health-care system near your park that would like to get involved in the TRACK Rx program, please contact Jason Urroz at jurroz@brpfoundation.org for more information.