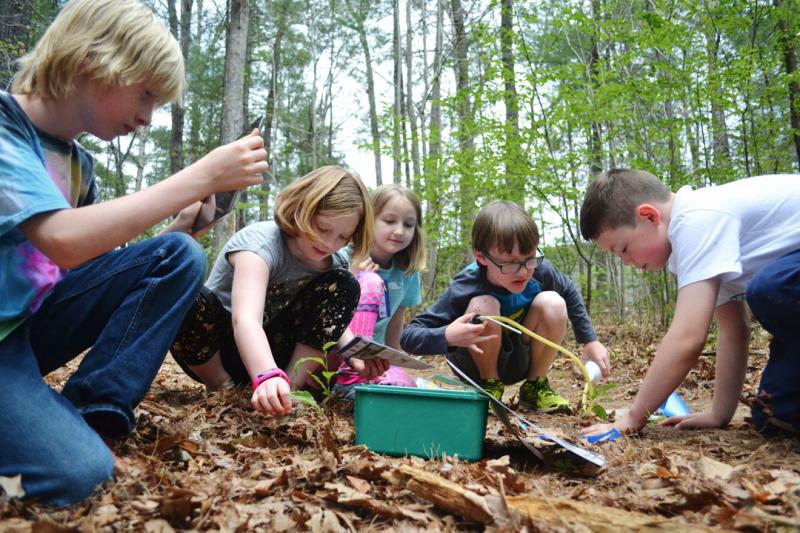 On April 17, Kids in Parks celebrated the grand opening of the Haw Creek Elementary School's Citizen Science / STEM TRACK Trail in Asheville, N.C. The celebration was held in conjunction with the school's Earth Week, and coincided with the North Carolina State Science Festival.
The trail materials were overlaid on the school's existing half-mile hiking trail. Throughout the week, teachers and their students flocked to the trail to learn about science found in nature through hands-on activities performed at a series of experiment stations.
Kids in Parks staff worked with the school's teachers to align the brochure-led adventures and associated experiment stations with the North Carolina curriculum standards for students in grades K-5. A total of 12 brochures were designed for the school, with two citizen science projects being developed for each grade level. The brochures and experiment stations use STEM (Science, Technology, Engineering, Art, and Mathematics) principles to engage the students in fun activities that enhance lessons taught in the classroom, and provide opportunities for continued discussions after each trail outing.
Whether the students were learning about bugs, trees, soil, or weather, it was apparent to the teachers and the KIP staff that bringing the classroom lessons to the trail was a lot of fun for the students.
Kids in Parks will continue working with the teachers at the school to modify the brochures and experiment station materials, creating a suite of materials that can be replicated and installed at any elementary school, park site, or other location looking to engage people in citizen science.
The Haw Creek Elementary School TRACK Trail is open to the public during non-school hours. For more information about the trail, or to download links to the brochure-led adventures, please visit the trail's page on the Kids in Parks website: http://www.kidsinparks.com/haw-creek-elementary-citizen-science