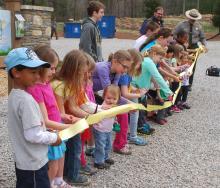 The North Carolina Arboretum TRACK Trail grand opening was on Saturday, March 22nd at 1PM. There was a ribbon cutting ceremony and guided walk along the new TRACK Trail!  
The Arboretum TRACK Trail is a 1.3 mile loop through mixed hardwood forest and formal gardens. According to Jonathan Marchal, Arboretum Youth Education Manager, the TRACK Trail offers families a new way to explore. In addition to the traditional Hide and Seek adventures that accompany TRACK Trails, the Arboretum trail features a special activity. Turtle Tales leads children on a walk from the point of view of Shelly, an Eastern Box Turtle.
As part of the opening celebration, a number of special activities were planned. Visitors had the opportunity to participate in pond exploration, as well as a scavenger hunt for soil invertebrates. Children discovered the delicate majesty of butterflies on a meadow hunt for the winged beauties, and a tour of the EcoLab classroom offered the chance to meet Shelly, the Eastern Box Turtle from Turtle Tales. 
The North Carolina Arboretum website: http://www.ncarboretum.org/ 
http://www.ncarboretum.org/education/youthfamily-programs/n-c-arboretum-track-trail/ 
Googlemap of The NC Arboretum http://goo.gl/maps/6Hg9s