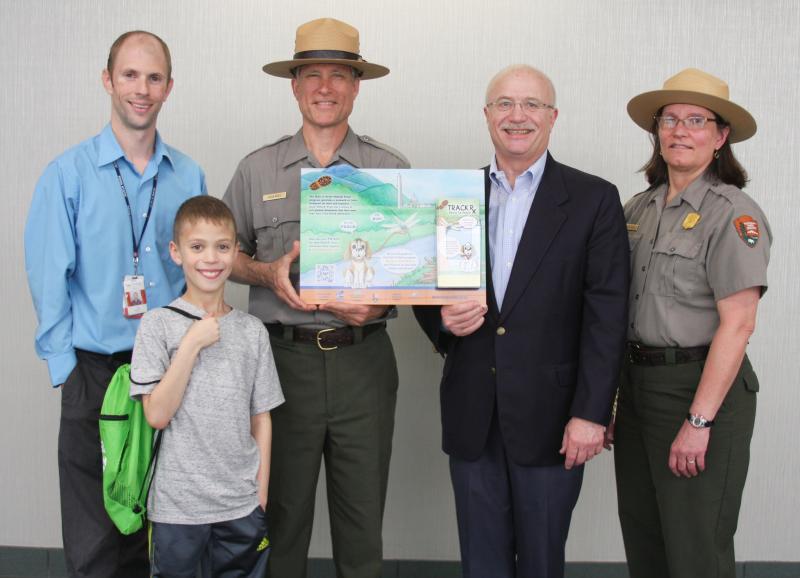 In conjunction with the National Park Service's ParkRx Day, celebrated Sunday, April 23, Meritus Health became the only health system in the state of Maryland to partner with area parks for the Kids in Parks program's TRACK Rx initiative.
Kids in Parks encourages families to be more active on trails in our local National Parks, and the program's TRACK Rx initiative allows health care providers to formally prescribe those trails to their patients. Kids in Parks TRACK Trails in or near Washington County, Md., can be found in Antietam National Battlefield, the C&O National Historical Park, Catoctin Mountain Park, Monocacy National Battlefield and Harpers Ferry, W.Va., National Historical Park.
"Kids in Parks connects kids to public lands through a network of kid-friendly trails called TRACK Trails," explains Peggie Gaul, acting supervisory park ranger at Catoctin Mountain Park. "Each TRACK Trail has self-guided activities designed to make every outing a fun-filled, healthy adventure, while ensuring the future of our parks."
Earlier this year, Kids in Parks partnered with Meritus Health to install their TRACK Rx materials (miniature trailhead signs and brochures) in eight of their health care facilities, allowing 42 health care providers the ability to write prescriptions for kids and adults to participate in outdoor recreation and TRACK Trail adventures.
"Families begin their journeys when they receive a 'prescription' from one of our Meritus Medical Group providers, encouraging them to fill it with an outdoor activity in nature," says Joseph Ross, president and CEO of Meritus Health. "From there, they find a Kids in Parks TRACK Trail, go on an adventure and then register their hike online at KidsInParks.com to earn free prizes. The goal is to get kids unplugged, outdoors, and moving!"
In addition to getting the kids and families outdoors, the partnership with Meritus Health has also leveraged the National Park Service to install two new TRACK Trail trailhead locations. A new trail can be found at Catoctin Mountain Park, and another one will be installed along the C&O Canal Historical Park in the near future, giving Meritus Health patients and the citizens of the region more opportunities to get active outdoors.
Pictured, officially kicking off the partnership in front of Meritus Family Medicine – Robinwood, left to right, is Matt Kearney, PA-C, from the practice; Christian Butler modeling some of the Kids in Parks free gear; John Noel, deputy superintendent of C&O National Historic Park; Mr. Ross; and Ms. Gaul. Kids in Parks displays and brochures, like the one pictured here, can be found in Meritus Medical Group primary care practices throughout Washington County.