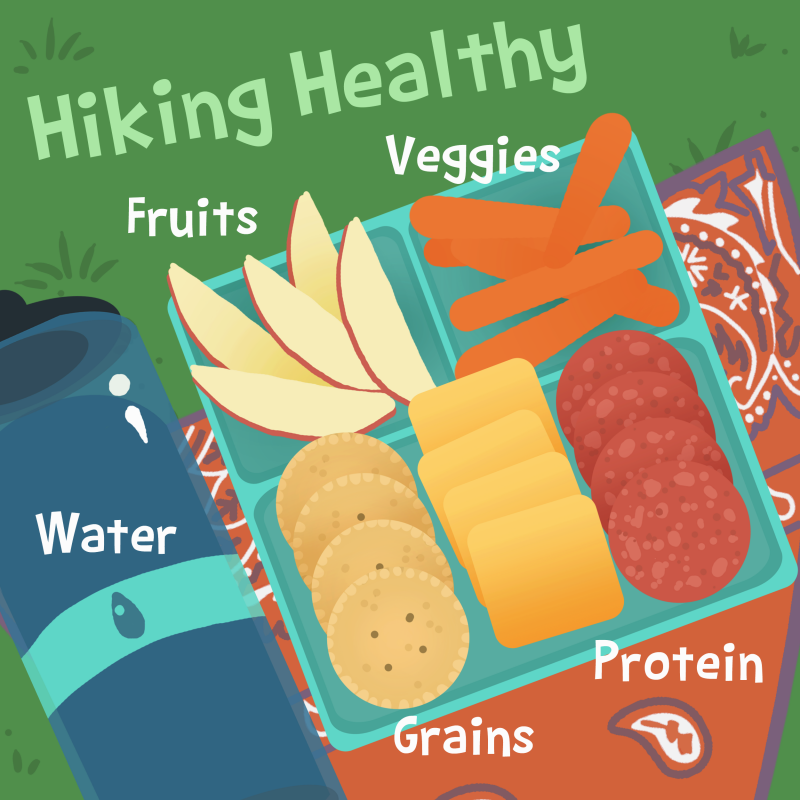 Planning a hike with kids? Make it better by packing a lunch to take with you! Hiking can be a fun way to encourage healthy eating. There's just something about taking your lunch outdoors that can make it taste all the better. Especially after a good hike! So, in the spirit of Wellness Week by NPS's Healthy Parks Healthy People, which encourages people to utilize public lands as places to better their wellbeing, we've made a quick guide to packing a well-rounded lunch to take with you on your next big adventure! 
To begin… having a good breakfast before a hike is essential! Choose foods that digest slower to fuel kids through the morning. Pre-hiking (or any recreation) breakfast should include protein, a complex carbohydrate, and fat. For example, scrambled eggs are great, with whole wheat toast and fruit! Or try oatmeal with milk and nuts or seeds.
What to Pack!
Fruits are low in calories and are a source of natural sugars, fibers, and vitamins. Apples, oranges, bananas, and berries are good to take on a hike with you. Dried fruits are also great to pack, as they keep longer and can help save space. However, note that dry fruit is not as filling, and can likely be over-eaten. Be sure to drink plenty of water alongside eating dried fruit.  
Vegetables contain essential vitamins, like A and C, and minerals like iron and calcium. These are important for the body to grow and function. Great veggies to take on hikes are raw carrots, broccoli, cauliflower, bell pepper, sugar snap peas, cherry tomatoes, and celery. Picky eaters might enjoy their veggies paired with hummus.
Grains and protein can often be combined in a sandwich or wrap. Grains have carbohydrates, which give you energy. And protein-rich foods often contain iron, zinc, and Vitamin B, which helps maintain healthy muscles and organs. A few kid-favorite, healthy sources of protein are peanut butter, dry meats, hummus, beans, cashews, and almonds. You can pair these items with a favorite grain, like bread, crackers, or tortillas. And when choosing a grain, choose whole grains. Whole grains are especially good for giving you energy without leaving you feeling sluggish.
Dairy foods are also a source of protein, and they contain calcium and Vitamin D as well. However, most dairy products spoil quickly. So pair your grains and proteins with a favorite hard cheese! Cheddar, mozzarella, and parmesan are perfect for day hikes and are already popular cheeses with kids. Individually wrapped cheese, like string cheese and Mini Baybel, are also good to pack.
A little treat is perfectly okay to take as well. Something sweet can provide kids with a little motivation to finish their lunch or reward them at the end of the hike. Even chocolate can have some benefits! Dark chocolate has less added sugar and can be a great source for antioxidants, vitamin B, protein, and fat. Plus, it just makes you feel good! Mix chocolate with nuts or seeds, dried fruit, and cereal to create trail mix as an after-hike snack.
Water… Please bring water! Which, obvious as it is, bringing water can often be overlooked, especially when the hike you plan is short. Kids also typically don't tell you when they're thirsty, so it's good to plan breaks to drink water during the hike.

The amount of water you'll need is dependent on the length and intensity of the hike, ages of kids, and even personal thirst level. But always be prepared, and just simply have an abundance of water! And if you're planning a long hike in warm weather, bringing along a few drinks with electrolytes might be a good idea. Just remember that drinks like Gatorade or Propel should be used as supplements to drinking water. Not as the sole way you're staying hydrated.
We hope this guide will inspire taking your lunch with you on your next hike! Check out the resources below for further tips, recipes, and vegan and allergy-friendly food options.
Resources::