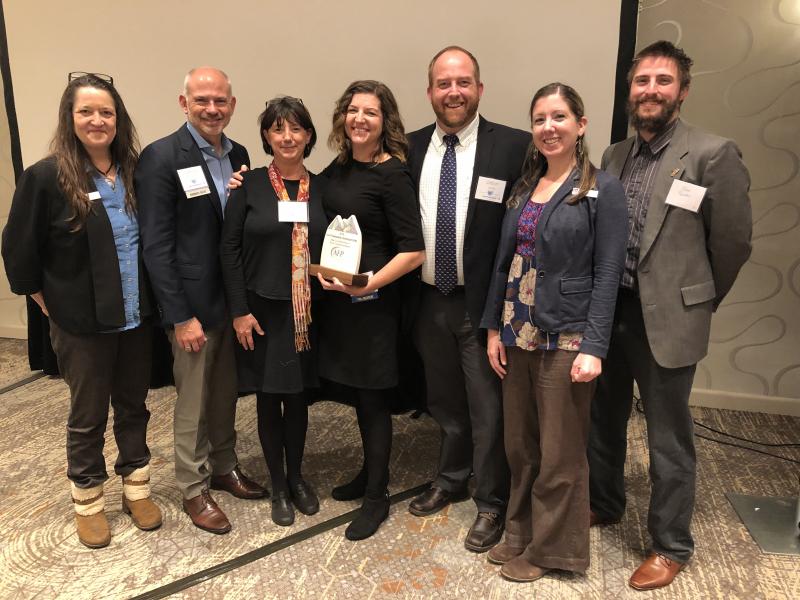 Kids in Parks founding partner, the Blue Cross and Blue Shield of North Carolina Foundation (Blue Cross NC) was named the 2018 Outstanding Foundation by the Association of Fundraising Professionals Western North Carolina Chapter in front of a sold-out crowd at National Philanthropy Day. The annual award ceremony honors philanthropists, fundraising professionals, and volunteers making significant contributions to Western North Carolina's philanthropic community.
Blue Cross NC Foundation was nominated by the Blue Ridge Parkway Foundation for serving as a pivotal change agent for its Kids in Parks program. In 2009, the two organizations partnered with the National Park Service to help improve the health of North Carolina's children, and its parks and public lands, by developing a network of kid and family friendly hiking trails called TRACK Trails.
"Since Kids in Parks' inception, the Blue Cross NC Foundation has invested significant resources into the program, helping us to grow and expand in ways that have far exceeded our initial expectations," said Carolyn Ward, CEO of the Blue Ridge Parkway Foundation. To date, more than 300,000 TRACK trail adventures have been completed on North Carolina's 100 TRACK Trails. "They've also helped us incubate new ideas," Ward continued, "like our award-winning TRACK Rx program, which partners with healthcare providers to write prescriptions for TRACK Trails and other outdoor activity."
And the Blue Ridge Parkway Foundation is just one of the Blue Cross NC Foundation's many grantees. Since its founding in 2000, the Blue Cross NC Foundation has approved more than 980 grants to North Carolina organizations, totaling $130 million. These grants support both established organizations and programs, as well as innovative start-ups just taking shape. "We have the unique opportunity to take risks, fund new and untested ideas, support emerging leaders, and help catalyze lasting policy, systems and environmental changes," said Merry Davis, Senior Program Director at the Blue Cross NC Foundation. "This is what we are seeing with Kids in Parks and this is the work that we think will help move North Carolina tier to one of the healthy states in the country.