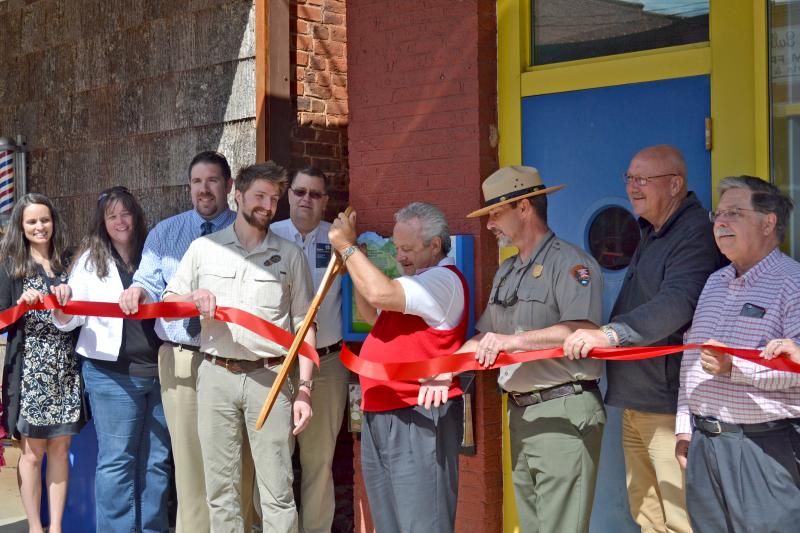 The Town of Rutherfordton in North Carolina has been home to numerous historic events since it was founded in 1787. On Thursday, May 5th, another historic event was added to the list. The town celebrated the grand opening of three new trail features in the Town: the Golden Mile, the Historic Trail, and the Kids in Parks program's first "Main Street" TRACK Trail.
Although the event may not have been as historic as the minting of the nation's first $1 gold coin, the construction of the region's first church, or the passing of the Overmountain Victory Men who marched through the town on their way to the infamous Revolutionary War battle in King's Mountain, SC, the event, and the trails that the event celebrated, were focused on telling the story of the unique history of the Town.
During the event, the Town Mayor, Jimmy Dancy, welcomed the crowd and spoke about the importance of the Town's history and the partnerships formed to help bring the story to life.
"Even though the Kids in Parks program has installed a network of more than 130 TRACK Trails across the country, we're still excited," said Adam Roades, Interpretive Graphic Designer for the Kids in Parks program, "We're excited because this is our first Main Street TRACK Trail. We're excited to have designed a brochure that gets the kids of Rutherfordton to hike down Main St. and connect with their history and heritage."
The Superintendent of the Southern Campaign of American Revolution Parks, John Slaughter, was also in attendance and spoke about the unique ability for the Town of Rutherfordton to "have a National Park, the Overmountain National Historic Trail, running right through the middle of their town." The Town of Rutherfordton was one of the places where the Overmountain Men traveled through, gathering supplies and patriots on their way to fight the British loyalists at King's Mountain. "How many other towns across America would be happy to have a National Park coming right down Main Street?" he asked the crowd.
Town Manager, Doug Barrick, who was instrumental in the partnership formed with Kids in Parks spoke about the Golden Mile, Historic Trail and TRACK Trail materials that were created as part of the Town's vision for the future. "As the Town Manager, other regional town managers ask me, 'how did you do this?', 'how did you do that?', or, 'how did you get that trail?', and they're looking at Rutherfordton as an example of the things they can do to improve the quality of life for the citizens in their towns."
The Kids in Parks program is excited to open this historic new TRACK Trail, not only because this is our first "Main Street" trail, but because it helps connect kids and families with their local history and culture. We're already looking forward to the next one!