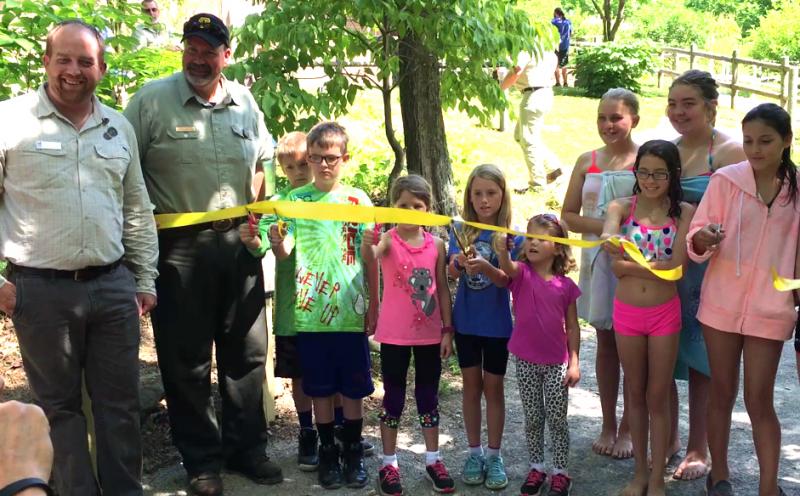 How did you celebrate National Get Outdoors Day last weekend? (June 11).
At the Chilhowee Recreation Area in Cherokee National Forest, kids and families celebrated the grand opening of the Kids in Parks program's 140th TRACK Trail, and the first TRACK Trail in Tennessee!
The trail was installed thanks to a partnership between Cherokee National Forest and the Partners of Cherokee National Forest. The TRACK Trail at Chilhowee is a combination of the Recreation Area's McKamy Lake Trail (0.6 miles) and the Forest Walk (0.4 miles), making a one-mile figure-eight trail that leads visitors around the site's scenic lake and through native forest habitats. Along the route, visitors can use a series of self-guided brochures to learn about and connect with the resources that make the forest so fascinating, including lichens, birds, trees, and the relationships that can be found when we get outdoors and enjoy nature.
During the grand opening ceremony, District Ranger Andy Gaston spoke about the unique setting of Cherokee National Forest and the numerous opportunities for families to spend time outdoors in eastern Tennessee through visits to the Forest and Great Smoky Mountains National Park. Gary Schneider, president of Partners for the Cherokee National Forest, spoke about the importance of the forest for kids and families, detailing the numerous activities available to visitors, including swimming, hiking, birding, paddling, fishing and more.
The Chilhowee Recreation Area is unique as a TRACK Trail location because the trail surrounds a small lake, a great spot to go for a swim after a long hike on a hot day! In fact, it was HOT during the grand opening celebration, and as soon as the speeches were over the kids made a beeline for the cooling waters.
The rangers and KIP staff certainly understood their enthusiasm. If we hadn't been wearing our fancy uniforms, we would have joined them. Next time we'll bring our swim suits!