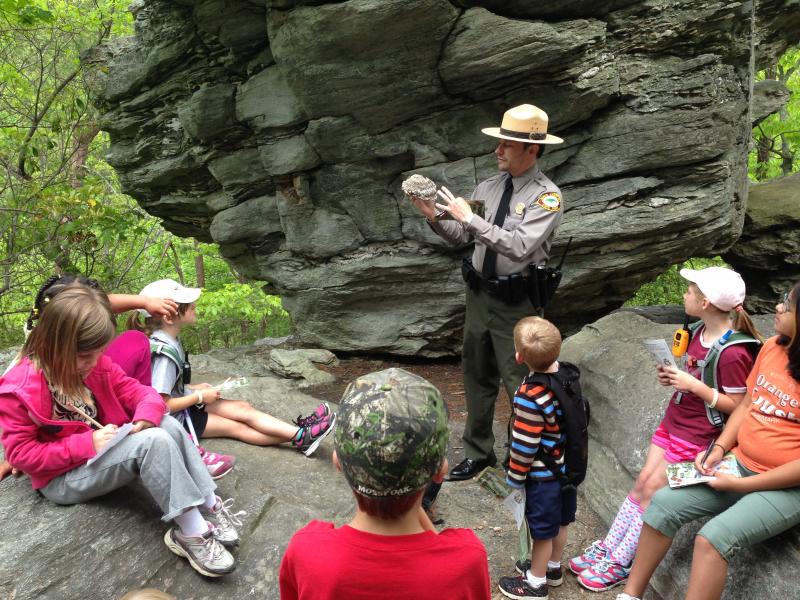 Last year was a big year for Kids in Parks! In 2018, we introduced a number of new experiences and locations to our network of trails, including our 100th TRACK Trail in North Carolina. With more opportunities to get outdoors, we saw many first-time visitors (58% of our registrants) to our partnering parks and sites. Even better, many visitors (84% of our registrants), old or new, said they would return to these parks/sites for more adventures in the future!
Listed below are our Top 10 Most Visited TRACK Trail sites for the year of 2018. These parks, in no particular order, had the highest numbers of Kid in Parks registrations, with each park offering unique experiences across vastly different regions in the eastern United States. The descriptions share what makes each of these parks special, and why they are well worth a visit!
Blue Ridge Parkway Visitor Center in Asheville (Milepost 384)
—
Asheville, N.C.
Located only 10 minutes from downtown Asheville along the Blue Ridge Parkway is the National Park Service Visitor Center at milepost 384. Not only is this a great place to stop for all your Blue Ridge Parkway  needs: from maps to merchandise, to information on the surrounding area — and also restrooms — but you can venture out back and hike along a refreshing 1-mile loop trail through the woods. This is also the location of our very first Kids in Parks TRACK Trail! It is an easy hike, perfect for all ages, that never ventures far from the Parkway. This trail also follows a section of the Mountains-to-Sea trail, which is a 1,175-mile trek stretching from North Carolina's mountains to its coast.

While at the Visitor Center, be sure check out the exhibits inside to learn more about the history of the Blue Ridge Parkway. You can also participate in the National Park Service's Junior Ranger program! Become a Junior Ranger by stopping by the visitor center to pick up activity sheets specific to the area. Complete all the activities and you will receive a special badge designed just for Blue Ridge Parkway Junior Rangers.
Click for more information  on the Visitor Center at Milepost 384 and the Blue Ridge Parkway
Chimney Rock State Park

*

—

Chimney Rock, N.C.

An icon of Western North Carolina, Chimney Rock is a beloved attraction for many visitors to the region. But for those looking to expand their visit and explore other hiking opportunities, Chimney Rock State Park offers an array of trails throughout the park, including little adventures for beginner hikers. One such adventure is the Great Woodland Adventure Trail, an easy, 0.6-mile loop featuring 12 discovery stations for kids. Here you can use any of the available Kids in Parks adventure brochures, which can be found at the trailhead located near the beginning of the trail.

 

In addition to six hiking trails located within the fee-based Chimney Rock access, there are four free trails that are accessible from the Rumbling Bald access, the Eagle Rock Reserve Parking Area, and from Chimney Rock Village.

 

*The TRACK Trail materials at Chimney Rock State Park are accessible within the fee-based Chimney Rock access

 

Click here for more information on Chimney Rock State Park or here to plan your trip and purchase tickets

 

 
Hanging Rock State Park
—
Danbury, N.C.
Located in the "mountains away from the mountains", Hanging Rock State Park is a great stop for waterfall enthusiasts. The park features spectacular views set in the Sauratown Mountains (an isolated range away from the nearby Blue Ridge Mountains) where you can discover sheer cliff faces, bare rock peaks, and of course, waterfalls! The TRACK Trail at Hanging Rock begins near the Visitor Center with one trail leading to the Upper Cascades. These falls are one of the park's more picturesque features, where you can complete the Kids in Parks "Waterfall Wonders" activity brochure. The other trail leads to the Rock Garden, an impressive outcropping of natural rock formations. Round-trip, the TRACK Trail is 0.6 miles, which leaves plenty of remaining time to venture down to the nearby lake for a picnic. Or, if you are an older more experienced hiker, you can take the 1.3-mile trail to the Hanging Rock.

Hanging Rock State Park offers a variety of interpretive programs, plus opportunities for other recreational activities such as rock climbing, mountain biking, and paddling.
Click for more information on Hanging Rock State Park
Pilot Mountain State Park
—
Pinnacle, N.C.
Another park located in the Sauratown Mountains is iconic Pilot Mountain State Park with its centerpiece pinnacles on Pilot Mountain. Big Pinnacle, the most recognizable for its walls of bare rock and vegetation-covered dome, has served as a navigational landmark for centuries. Nowadays, it is a destination for rock climbers. Like nearby Hanging Rock State Park, this park also offers fantastic views of the North Carolina Piedmont and nearby Blue Ridge Mountains from its Mountain Section of the park. To the south of Pilot Mountain, the park expands to the Yadkin River Section, featuring trails along the water as well as opportunities for paddlers.
The TRACK Trail at Pilot Mountain is located in the Mountain Section of the park along the Sassafras Trail. It is a moderate 0.3-mile hike to an overlook which offers scenic views of Big
Click for more information on Pilot Mountain State Park
William B. Umstead State Park
—
Raleigh, N.C.
For residents and visitors of "The Triangle" region in the Piedmont of North Carolina, William B. Umstead State Park is nothing short of an oasis amid the hustle-and-bustle of the surrounding city life. This 5,579-acre park is a wilderness haven that plays host to a variety of outdoor recreational activities including hiking, fishing, and camping. There are even trails for horseback riding and mountain biking.
William B. Umstead's TRACK Trail is located along the 0.6-mile Oak Rock Trail, which is aptly named as the trail features a large oak tree that has grown out of an outcropping of rock. Also along the trail, you will find interpretive panels describing the trees found in the park. Here you can complete the Kids in Parks "Need for Trees" activity brochure: a take-along guide that will also describe some of the trees that inhabit the park and why those trees are important.
Click for more information on William B. Umstead State Park
Congaree National Park
—
Hopkins, S.C.
Congaree National Park, South Carolina's only national park, is a natural treasure for nearby residents and visitors alike. To begin its impressive repertoire, the park is home to the largest remaining old-growth bottomland hardwood forest in the Southeast. Bottomland hardwood forests were typical to lowland floodplains in the region, until deforestation began to wipe out these forests. Efforts to protect the Congaree floodplain began as early as the 1950s, and the park received its official designation as a national park in 2003. And in this flood plain, things grow big! Congaree hosts some of the tallest trees in the east, with some trees reaching as high as 17 stories, making for one of the world's highest temperate deciduous forest canopies.
The TRACK Trail at Congaree follows a 2.4-mile loop through the floodplain forest along a boardwalk trail. But your experience doesn't have to end there because there are more than 25 miles of hiking trails and opportunities for canoeing and kayaking, fishing, and camping. During May, Congaree is one of the few places you can witness synchronous fireflies, where the insects light up in simultaneous patterns to create a mesmerizing show.   
Click for more information on Congaree National Park
Carl Sandburg Home National Historic Site
—
Flat Rock, N.C.
Connemara is the home of the late Carl Sandburg, a Pulitzer Prize-winning poet and biographer of Abraham Lincoln, whose family moved to the 245-acre farm in 1945. The peace and solitude of the farm, in its abundance of nature, was a quiet haven for Sandburg to write. Meanwhile, his wife, Lillian, used the many acres of land to raise her champion dairy goats.

Now, you can experience the Sandburg's little slice of heaven for yourself via miles of hiking trails through pastures, forests, gardens, and an orchard. The Carl Sandburg Home also offers two unique Kids in Parks adventures! The first is the "Farm, Field and Forest" activity brochure, a search-and-find adventure around Connemara, guided by Carl Sandburg's grandchildren Paula and John Carl. The second is a Citizen Science trail around Front Lake, where you visit science stations and gather data to help determine the health of the park's environment.      
Click for more information on Carl Sandburg Home National Historic Site
Catoctin Mountain Park
—
Thurmont, MD
In the early days of our country, youth programs were paramount to the shaping of our nation's economic and social fabric. At Catoctin, remnants of early industry still stand: historic structures and products of the Works Progress Administration and the Civilian Conservation Corps, along with the site of our nation's first Job Corps Center. In Catoctin Mountain Park, you can find a charcoal and iron industry, along with smaller industries such as farms, sawmills, and even an old moonshine still.
Catoctin Mountain Park hosts two TRACK Trails. One beginning in the Camp Round Meadow Area, with a 0.5-mile hike to the Brown Farm Loop Trail. From there, the loop is 0.4 miles, making for a 1.4-mile hike round-trip. The other trail begins at the Visitor Center, with two options to follow; you can follow the easy, 0.6-mile hike along the Blue Blazes Whiskey Still Trail, which turns around at a replica whiskey still. Or you can follow the Cunningham Falls Nature Trail, a 2.8-mile trail that is more moderate with varied terrain.
Click for more information on Catoctin Mountain Park
Raven Rock State Park
—
Lillington, N.C.
The massive Raven Rock is a unique sight in the Piedmont of North Carolina. Located between the Research Triangle and Fayetteville, Raven Rock State Park sits along the fall zone, where the hard rocks of the foothills give way to the softer sediments of the coastal plain. Rising 150 feet high and stretching nearly a mile along the Cape Fear River, Raven Rock has become a landmark for those traveling the river. Its steep terrain, along with the presence of rhododendron and mountain laurel, gives you a feel of being in the mountains. Paddlers will enjoy a trip to Raven Rock State Park, with its access to a portion of the Cape Fear Canoe Trail, canoe camping, and two rapids to traverse within the park's boundaries.
The Raven Rock TRACK Trail follows the American Beech Trail, an easy 0.5-mile loop. However, if you are looking for a longer hike, there is the connecting Raven Rock Trail, a 2.6-mile loop that leads to Raven Rock with an overlook above the Cape Fear River.
Click for more information on Raven Rock State Park     
Carolina Beach State Park
—
Carolina Beach, N.C.
If you're looking for a diverse place to not only hike but also fish, Carolina Beach State Park is the place for you! Six miles of easy hiking trails meander through distinct coastal habitats, and fishing is available along the riverbank or from an ADA-accessible fishing deck. You can even launch a boat from the marina, where fuel, snacks, and fishing and camping supplies are available at the marina store. Refresh yourself after some time fishing by journeying over to the TRACK Trail along Snow's Cut, a man-made waterway that completed the Intracoastal Waterway in 1929, connecting it to the the Cape Fear River and turning Carolina Beach State Park into a barrier island.

Rangers regularly host educational and interpretive programs to teach visitors about the fascinating history and natural diversity of the park. Most notably, the presence of the Venus flytrap is a unique feature of Carolina Beach State Park, as is the presence of other carnivorous plants such as pitcher plant, bladderworts, sundews, and butterworts. All of which you can learn about in the visitor center exhibit hall.