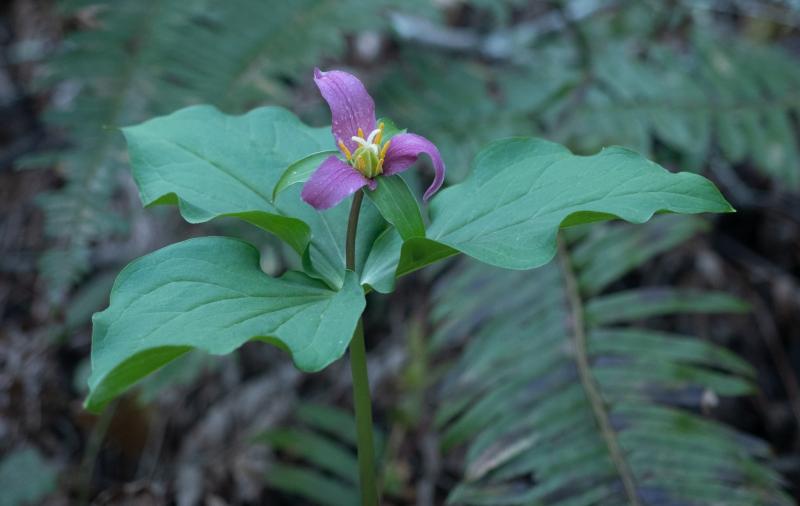 With warmer weather comes spring wildflowers! Soon, fields and forest floors will be alive with colorful blooms, but only for a short while before the trees leaf out. Plan out your next spring trip with this list of popular TRACK Trails for spotting wildflowers.
(Picture: Trout Lily)
Asheville Visitor Center  |  Price Lake  |  Peaks of Otter
There is something beautiful to see at every milepost on the Blue Ridge Parkway. Spanning 469 miles across North Carolina and Virginia, the parkway is home to over 1600 species of vascular plants - 80% of which are wildflowers. Head out early before the canopy leafs out for small blooms like Trout Lily, Trillium, and Spring Beauty, but flowering plants will continue to bud through October. There are several TRACK Trails along the Blue Ridge Parkway and many more spots to explore!
(Picture: Thyme-leaved Bluets)
Sitting at 6,684 feet above sea-level, the highest park east of the Mississippi is home to a diverse ecosystem of plants and wildlife. While taking in the views and wonderful smells of the spruce-fir forest, don't forget to look down for rare species only found at these high elevations.
(Picture: Bloodroot)
The Sky Meadows State Park offers 22 miles to explore, including portions of the Appalachian Trail. Beyond hiking, there is something for all ages, including a Children's Discovery Area and certified "Outdoor Classroom" for programming. Traverse through woodlands and meadows and take in the surrounding beauty while hunting for wildflowers this spring. Don't forget to head over to
G. Richard Thompson Wildlife Management Area
, which boasts one of the largest populations of Large White Trillium in the U.S.
(Picture: Menzies' Baby Blue Eyes)
Lake Morena lies within 3,250 acres of chaparral, oak woods, and grassland. The park spans across a variety of habitats, from open water to pine forests, evident by the diversity in plants and wildlife. The peak season to spot flowers like the Chamise, Chaparral Yucca, and California Peony is March - May, and you can drive to Anza-Borrego Desert State Park for even more!
 
(Picture: Spring Beauties)
The Pisgah National Forest encompasses 500,000 acres of rolling mountains, cascading waterfalls, and tranquil streams. The Pisgah District has something for everyone - from biking and rock-climbing to fishing and snorkeling. After visiting this TRACK Trail, continue on to Flat Laurel Creek, Pink Beds, Roan Mountain, or Graveyard FIelds to discover more wildflowers.
(Picture: Pink Lady's Slipper)
Grayson Highlands is a 4,822-acre mountain park next to the Mount Rogers National Recreation Area in the Jefferson National Forest. It is well-known for being home to a herd of wild ponies, but these woods are also home to a variety of plant species. This region is graced with flowers of all shapes and sizes, including the beautiful Rhododendron, Mountain Laurel, and Azaleas.
(Picture: Dutchman's Breeches)
The Rock Creek Park was founded in 1890 as one of the first federal parks to preserve and appreciate a city's natural beauty. It is the perfect place to escape to enjoy native wildflowers and animals in the middle of bustling D.C. Whether traveling through the city, or maybe even visiting the White House, you don't have to go far to spot wildflowers this season!
(Picture: Showy Orchis)
The Shenandoah National Park covers 196,000 acres of wilderness and is home to over 850 flowering plant species. You're guaranteed to spot wildflowers on any trail you hike, and Fox Hollow is not the only TRACK Trail to explore - Limberlost Trail is in an area infamous for wildflowers! If you need a new place to hike, the Shenandoah River State Park is also 20 minutes down the road and offers 24 miles of trails along the river's coastline.
(Picture: Red Trillium)
This out-and-back 3 mile trail is at the junction of the Cherokee Nation (Qualla Boundary) and the Great Smoky Mountains. Given its proximity to the Smokies, which is known as the "Wildflower National Park" with at least 1,660 flowering plants, the Oconaluftee River Trail is not shy of wildflower sightings. Definitely stop by this TRACK Trail before heading into the Smokies to learn more about Cherokee culture, check out what wildflowers are blooming, and maybe even spot some elk!
(Picture: Texas Bluebonnet)
Texas is known for beautiful bluebonnets in the spring. This new TRACK Trail is in a natural park in the heart of Frisco where one can enjoy native trees, grasses, and wildflowers. The trail passes through remnants of the Blackland Prairie - a sliver of rich, fertile ground that European settlers relied heavily on for agriculture. While visiting the Dallas-Fort Worth Area, drive on down to Ennis to enjoy the Ennis Bluebonnet Trail System, which consists of over 40 miles of mapped out driving trails for wildflower viewing.
(Picture: Oconee Bells)
Right off the Blue Ridge Parkway is a 434-acre arboretum dedicated to the preservation and conservation of the Pisgah National Forest. The North Carolina Arboretum, founded by Frederick Law Olmsted, is rich with plants and wildlife and protects a variety of rare species in the Southern Appalachian. One of these is the Oconee Bell, a rare and beautiful plant only found in a few counties of the southeast, but peppered along Bent Creek within the grounds.
(Picture: Virginia Bluebells)
This historical Civil War site is not only known for the battle that took place in 1862, but also now for the diverse landscape it's preserved. The proeprty boasts field, wetland, and woodland habitats on 5,100 acres and offers 40 miles of hiking trails. Take a detour from your next roadtrip to check out Virginia Bluebells in full bloom!
(Picture: Yellow Salsify)
Arboretum's are great places to enjoy and study native trees, shrubs, and flowers. The Pierre City Arboretum spans 24 acres and showcases over 40 different tree species as well as other native plants. With the addition of a pollinator garden and bird feeding station, you are sure to spot some wildlife while hiking along the trail. Drive 30 minutes south to the Fort Pierre National Grassland to view even more wildflowers this spring and summer season!
(Picture: Round-lobed Hepatica)
Visiting or living in the triangle region of North Carolina? Then head over to the Eno River State Park for over 30 miles of hiking trails. This riparian environment is perfect for anglers and paddlers but also creates a unique plant community. Follow along the Eno River and keep your eyes on the ground for every color of the rainbow.
(Picture: Fire Pink)
As one of the original six Virginia State Parks developed by the Civilian Conservation Corps (CCC), this park is sure not to disappoint. A 108-acre lake is nestled in the heart of this state park with fun activities for the whole family. Below the thick rhododendron lining the trails lies tiny wildflowers blooming along the forest floor.
Special Edition:
(Picture: Venus FlyTrap)
Thousands flock to the mountains for wildflower season, but the coast is also rich with unique plant life. Many of these flowering plants only inhabit the warm dunes or maritime forest by the sea, including Sea Ox-Eye, Orange Milkwort, and Sandhill St. John's Wort. Carolina Beach State Park is particularly known for its plants that have a bite, such as the Spoonleaf Sundew and Venus FlyTrap. Celebrate the NC state plant at Flytrap Family Fun Day on April 1st!