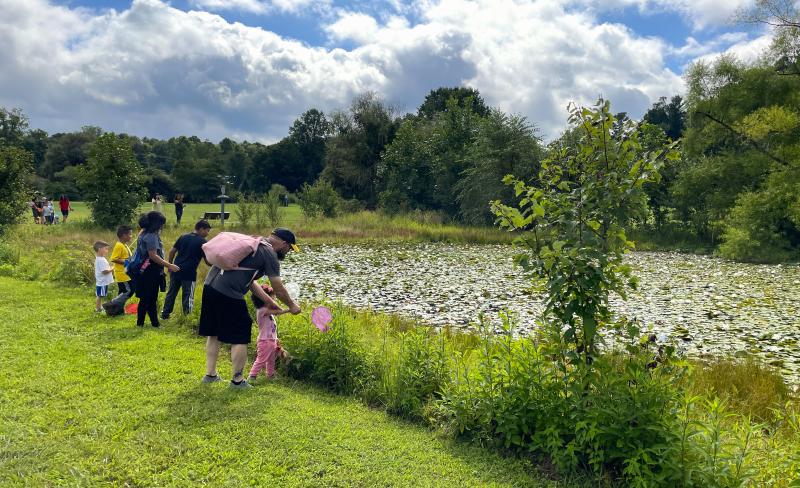 As National Hispanic Heritage Month comes to an end, Kids in Parks honors those who have improved our program through translations, conversations, and resources to make our materials more accessible for Spanish-speaking families. The theme for this year's National Hispanic Heritage Month is "Latinos: Driving Prosperity, Power, and Progress in America," highlighting the contributions of Hispanics to the economic, political, and social growth of the United States. Through partnerships with the Hispanic Access Foundation and Latinos Aventureros en las Carolinas, Kids in Parks is able to engage thousands of Spanish-speaking individuals with nature, improving the health and well-being of our younger generations and creating connections and further appreciation for outdoor spaces.
With the aid of grant funding via a ParkVentures grant from the National Park Foundation, the Kids in Parks program has now printed over 150,000 copies of its most-popular brochures in Spanish. Some of the brochures are bilingual (ex. Animales Atletas and Caminata y Busqueda de la Naturaleza), while others are entirely in Spanish (ex: La Vida en el Estanque and Descomponedores de los Muertos). These brochures are available at TRACK Trails in National Parks, state parks, city and county parks, and other sites across the country. Beyond playing a vital role in the translations of these brochures, Latinos Aventureros en las Carolinas and Hispanic Access Foundation continue to support Kids in Parks through translation of signage, collectible prize cards, TRACK Rx materials, and more. 
Vivianette Ortiz, the Executive Director of Latinos Aventureros, reflected on this partnership, sharing "imagine being able to pick up a brochure or activity booklet in your native language, allowing you to feel truly welcomed and acknowledged. It's a powerful experience that opens doors for us to learn, explore, and connect with the great outdoors. At Latinos Aventureros, we are honored to have been a part of this project by assisting in translating these materials. It fills us with hope and excitement to witness organizations that are dedicated to bridging these language barriers and ensuring information is accessible to all. This commitment is a call to action, inviting our community to step outside, embrace nature, and experience the beauty that surrounds us." Kids in Parks is beyond grateful for our partnership with Latinos Aventureros and look forward to further collaborations. If interested in supporting and learning more about Latinos Aventureros, check them out on social media where they post regular programs and activities for Latino folks across the Carolinas! 

This October 22nd, Latinos Aventureros is celebrating their Second Anniversary at Lake James State Park. There will be food, music, guided hikes, and nature-themed activities and crafts! The Lake James TRACK Trail features a new bilingual sign and Spanish brochures as well. For more information about this event, become a member of their Facebook group and check out their events page.