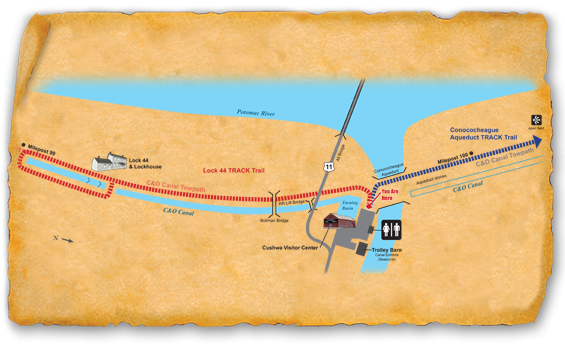 The Chesapeake & Ohio Canal National Historical Park TRACK Trail has two sections. The Lock 44 TRACK Trail is 0.6 miles one-way (1.2 miles roundtrip) from the information kiosk to Milepost 99. The Conococheague Aqueduct TRACK Trail is 0.7 miles one-way (1.4 miles roundtrip) from the kiosk to the open field (power line).
Boats were used on the Chesapeake & Ohio Canal for nearly 100 years to transport goods between Washington, D.C. and the mountains of Western Maryland. The canal was a lifeline for communities along the Potomac River as coal, lumber and agricultural products floated down the waterway to market. Today it endures as a pathway for discovering historical, natural and recreational treasures!
Williamsport is the only place on the canal where examples of major canal structures can be viewed within a half-mile stretch. A half mile re-watered section of canal leads through the turning basin, under the only Railroad Lift Bridge as well as the only Bollman Iron Truss Bridge over the canal to Lockhouse 44 and the adjacent lock. The Conocheague aqueduct is located across from the turning basin.
Track an adventure here

Location Details
Recreational Features:
Picnic Tables, Birding
Amenities:
Restrooms, Visitor Center
ADA Compliant:
Seasonality:
Adventures for Chesapeake and Ohio Canal National Historical Park - Williamsport
Directions
Latitude: 39.600577100000
Longitude: -77.826288800000
Directions:
From the East: Take I-270 north to 70 west to Hagerstown. Take I-81 north and south exit. (Take exit 26 toward Harrisburg/Roanoke). Merge onto I-81 south toward Roanoke. From I-81 take exit 2 and merge onto Potomac Street/US 11 south. Follow straight to visitor center at bottom of hill, (approximately 1.4 miles).
From the West: Take 68 east to I-70 east/US 40 east/ US-522 South exit, (exit 82AB toward Hagerstown). Merge onto I-70 east via exit 82 B toward Hagerstown. From 70 east take exit 24 and merge onto MD-63/Williamsport Pike. Travel two miles to Williamsport. Turn right onto US-11/MD 63/East Potomac Street. Follow to visitor Center.
From Martinsburg, WV, heading North: Take I-81 north and cross the Potomac River bridge. Take exit 1, Route 68-Williamsport immediately after crossing the bridge. Make a left onto Route 68, through three stoplights to junction with Route 11. Turn left onto Route 11/Potomac Street. Follow Potomac Street to visitor center.
From Harrisburg, PA, heading South: Take I-81 south. Take exit 2, Route 11-Williamsport. Route 11 is also Potomac Street. Follow Potomac Street to visitor center in Williamsport.