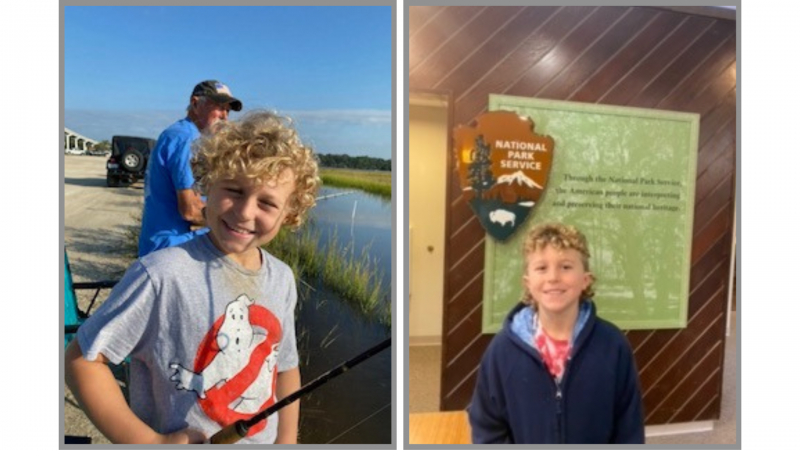 We are so proud of our Trail TRACKers, and that's why we like to recognize those who go out of their way to explore our trails. Each month, we honor at least one of these special explorers with the title of Trail TRACKer (or TRACKers) of the Month. This month, our honoree is...
RYDER!
Who has TRACKed 25 Adventures with Kids in Parks!
Meet the Trail TRACKer of the Month
What's your favorite TRACK Trail? Why?
"The Jordan Lake State Recreation Area is the best"
What's your favorite TRACK Trail brochure adventure?
"I like the one about Trees best. Mom likes the one that teaches about botany, entomology, and herpetology best because she's a science teacher. Dad likes animal traces and tracks."
What's the most exciting wildlife you've seen on a TRACK Trail?
"We see a lot of Bald Eagles at Jordan Lake. The best experience we saw was a tiny baby deer and mom... It was early and we must've scared them because the mom still had the after birth attached, we backed up and tried to back away and give them privacy!"
What's the longest hike you've ever done?
"5 miles with Greensboro Trails Day - from Lake Brandt to Guilford Courthouse to Country Park. I think part was on the rails to trails route. We also love paddling the New River and Jordan and Kerr lakes too."
What is the coolest trail experience you've ever had?
"We did a bird hike at Medoc Mountain and the guide was awesome. We saw and heard so many birds."
If you could hike anywhere in the world, where would you go?
"Anywhere in Hawaii"
Do you have any tips for other Trail TRACKers?
"Never touch leaves of 3, check your body for ticks, and stay on the trail!"