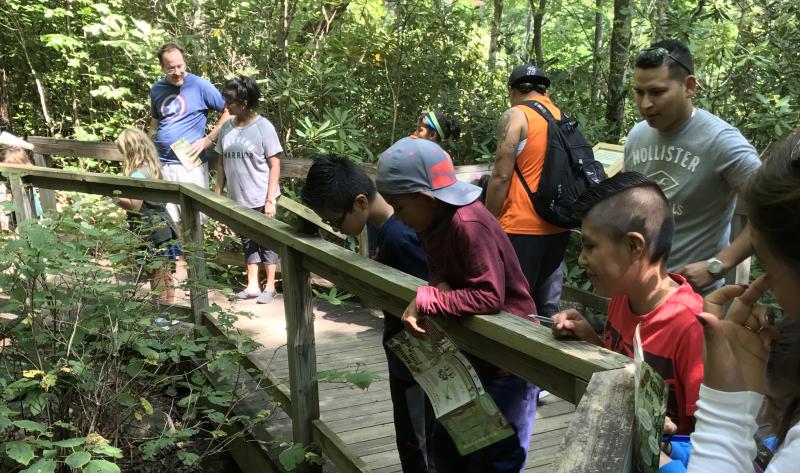 Every year in July, the Hispanic Access Foundation and its partnering groups host Latino Conservation Week, celebrating the important work Latino individuals, families, businesses, organizations, and communities are doing to help conserve nature. This year marks the 10th anniversary of Latino Conservation Week (July 15-23).  
As part of the celebration this year, the Blue Ridge Parkway Foundation and its Kids in Parks program would like to highlight the partnerships it has formed with Latino-based organizations. These important partnerships are helping the Foundation and Kids in Parks engage Latino families and communities in outdoor recreation opportunities that help them develop meaningful connections to nature, with the end goal being the long-term conservation of our parks, public lands, and natural resources.  
Last year, the Blue Ridge Parkway Foundation's Kids in Parks program received a ParkVentures grant from the National Park Foundation. Through this grant, the program partnered with the Hispanic Access Foundation and Latinos Aventureros en las Carolinas to translate five of its most-popular activity brochures into Spanish. This grant funding allowed the program to print 150,000 copies of these new materials, which are available to TRACK Trail partner sites in National Parks, state parks, city and county parks, and other land management agency sites throughout the country. Through these brochures, Kids in Parks is able to engage thousands of Spanish-speaking children and adults with nature each year." 
In addition to the Spanish brochures, the program continues to work with Latinos Aventureros en las Carolinas and Hispanic Access Foundation to translate other materials into Spanish, including the program's collectible prize cards, TRACK Rx materials, and more.
"Imagine being able to pick up a brochure or activity booklet in your native language, allowing you to feel truly welcomed and acknowledged. It's a powerful experience that opens doors for us to learn, explore, and connect with the great outdoors." said Vivianette Ortiz, Executive Director, Latinos Aventureros. "At Latinos Aventureros, we are honored to have been a part of this project by assisting in translating these materials. Through this effort, the Latino community is able to read, learn, and immerse themselves in the wonders of nature. Thank you, Blue Ridge Parkway Foundation and Kids in Parks, for your unwavering dedication to inclusivity, equity, and for providing a pathway for our community to engage with the outdoors."
Jason Urroz, the Program Director for Kids in Parks shared "the more children we can introduce to the wonders of nature, the greater hope we have for their health and well-being as they grow up. And, when upcoming generations recognize the benefit our parks and public lands have for their personal lives, these spaces can thrive through their stewardship and conservation."
For more information about the National Park Foundation's efforts to help ensure all people see themselves in parks, feel a sense of belonging in them, and experience the wonder and benefits of being outside, visit nationalparks.org/our-work/outdoor-exploration.