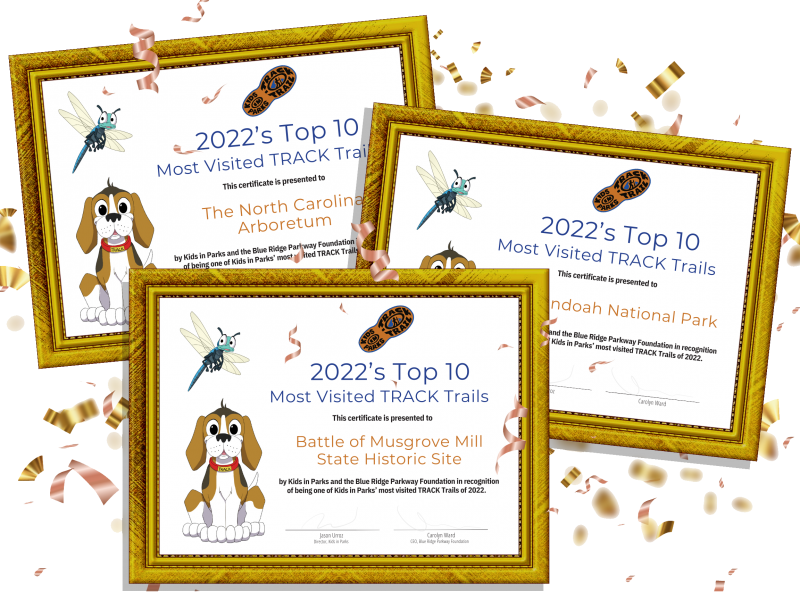 Listed below are our Top 10 Most Visited TRACK Trail sites for 2022! These parks, in no particular order, had the highest numbers of Kid in Parks registrations, with each park offering unique sights and experiences across the United States. Keep reading to learn more about these favored parks and why they are well worth a visit!
Battle of Musgrove Mill State Historic Site — Clinton, SC

The Battle of Musgrove Mill State Historic Site preserves the site of the August 19, 1780 American Revolutionary War battle of Musgrove Mill. This battle between outnumbered Patriots against British Loyalists ended in a victory for the Patriots. This victory boosted the morale of South Carolina Patriots and dispelled the British force's belief that they had crushed all resistance. The battle and the history of the Revolutionary War in the South Carolina Backcountry are detailed through signage in the Visitor Center and along the 1-mile British Camp Trail and a 1.5-mile Battlefield trail. The TRACK Trail brochures featured here allow TRACKers to join either the Loyalist or Patriot forces.
Alongside its history, the TRACK Trail at Musgrove Mill offers visitors excellent birding opportunities, as well as views of other wildlife. The trail meanders along the Enoree River and past Horseshoe Falls before ascending through a forest of large trees and a pond.
Admission for the Battle of Musgrove Mill State Historic Site is: $3 per adult (16 years and older); $1.50 for seniors (65 and older); $1.00 for children (ages 6-15); and free for children under 5 years old.
Click for more information on the Battle of Musgrove Mill State Historic SIte
___
The North Carolina Arboretum — Asheville, NC

The North Carolina Arboretum is a 434-acre public garden located within the Bent Creek Experimental Forest. Surrounded by lush folds of the botanically diverse Southern Appalachian Mountains, The North Carolina Arboretum is adjacent to the scenic Blue Ridge Parkway and is nestled in one of the most beautiful natural settings in America. Formal gardens, seasonal exhibits, a Bonsai collection, a cafe, gift shop and more are available at the Arboretum. 
The North Carolina Arboretum TRACK Trail follows the Natural Garden Trail and loops through the gardens. The Natural Garden Trail is a 1-mile hike through a mixed hardwood forest and the trail through the formal gardens is 0.3 miles. All making for an easy 1.3-miles loop. You can also explore the trails using two special TRACK Trail brochures. The "Let's Explore! ecoEXPLORE" brochure works in tandem with the arboretum's own ecoEXPLORE program, an incentive-based citizen science program for kids. Kids can also visit Willow Pond and use the "Who's at Willow Pond" brochure to observe and map the wildlife inhabitants of the pond. 
The North Carolina Arboretum has a $16 per vehicle fee for entry. Funds are used to maintain the grounds and sustain the future of the Arboretum.
Click for more information on the North Carolina Arboretum
___
Chimney Rock State Park* — Chimney Rock, NC

An icon of Western North Carolina, Chimney Rock is a beloved attraction for many visitors to the region. But for those looking to expand their visit and explore other hiking opportunities, Chimney Rock State Park offers an array of trails throughout the park, including little adventures for beginner hikers. One such adventure is the Great Woodland Adventure Trail, an easy, 0.6-mile loop featuring 12 discovery stations for kids. Here you can use any of the available Kids in Parks adventure brochures, which can be found at the trailhead located near the beginning of the trail.
In addition to six hiking trails located within the fee-based Chimney Rock access, there are four free trails that are accessible from the Rumbling Bald access, the Eagle Rock Reserve Parking Area, and from Chimney Rock Village. *The TRACK Trail materials at Chimney Rock State Park are located within the fee-based Chimney Rock access*
Click here for more information on Chimney Rock State Park or to purchase tickets
___
Limberlost Trail at Shenandoah National Park — Luray, VA

Just 75 miles from the bustle of Washington, D.C., Shenandoah National Park is a recreational escape. Throughout the park are cascading waterfalls, spectacular vistas, and quiet wooded hollows. You can take a hike, meander along Skyline Drive, or go on a picnic with the family. The park's 200,000 acres of protected lands are a haven to deer, songbirds, and even the night sky as low light pollution allows for spectacular viewing of star-filled skies.
The Limberlost TRACK Trail is located in the Skyland section of the park. It is a 1.3-mile loop, built for visitors of all ages and abilities, that gently winds through sprawling mountain laurel, tall oaks, and feathery ferns. It's home to all sorts of creatures, and it's a place of many changes. Use the "Senses and Sensitivity" activity brochure to discover the signs of those changes and explore the wonders of Limberlost using your senses and imagination.
Click for more information on the Limberlost Trail at Shenandoah National Park
___
Blackrock Summit Trail at Shenandoah National Park — Grottoes, VA

Like Limberlost Trail, Blackrock Summit is nestled in the Shenandoah National Park, which consists of 200,000 acres of protected land. This park is home to a wide range of wildlife and beautiful views, whether exploring cascading waterfalls, mountaintop vistas, or quiet woodlands. The Blackrock Summit TRACK Trail is a 1-mile loop with 175 feet in elevation gain and takes you up to a rocky talus slope. Though you might have to scramble up some rocks, this short hike leads to an overlook of the Shenandoah Valley, Massanutten Mountain. The rock structure atop this mountain provides home to unique plant life and is a nice trail for birding. 
This hike winds along a portion of the Appalachian Trail, a 2,200-mile trail from Georgia to Maine. Every year, thousands of people attempt to thru-hike the entire trail. Use an activity guide to discover the joys and struggles you would experience as a thru-hiker on the Appalachian Trail.
Click for more information on the Blackrock Summit Trail at Shenandoah National Park
___
Carl Sandburg Home National Historic Site — Flat Rock, NC

"Connemara" is the home of the late Carl Sandburg, a Pulitzer Prize-winning poet and biographer of Abraham Lincoln, whose family moved to the 245-acre farm in 1945. The peace and solitude of the farm, in its abundance of nature, was a quiet haven for Sandburg as he worked on his writing. Meanwhile, his wife, Lillian, used the many acres of land to raise her champion dairy goats.
Now you can experience the Sandburg's little slice of heaven for yourself, via miles of hiking trails through pastures, forests, gardens, and an orchard. The Carl Sandburg Home also offers two unique Kids in Parks adventures. The "Farm, Field and Forest" activity brochure leads kids on a search-and-find adventure around Connemara, guided by Carl Sandburg's grandchildren Paula and John Carl. The second adventure is a Citizen Science trail around Front Lake, where you visit science stations and gather data to help determine the health of the park's environment.
Click for more information on Carl Sandburg Home National Historic Site 
___
First Landing State Park — Virginia Beach, VA

First Landing State Park is so-named because it is the site where the Virginia Company landed on Cape Henry in 1607. From here, the English colonists eventually moved westward and formed Jamestown, the first permanent English settlement in North America. Throughout history, this area has been an important source of water and transportation, but nowadays, the park offers a wide range of recreational activities for visitors across 2,888 acres, such as swimming, hiking, biking, boating, and fishing. First Landing also has a distinct natural habitat; the park is the northernmost east coast location where subtropical and temperate plants can be found growing together. Experience this unique habitat along the Bald Cypress TRACK Trail, an easy 1.8 mile loop through cypress swamp where you will see a variety of birds, trees, and insects. Dragonflies are especially prominent along this trail, and you can use the "Quest for Dragons" activity brochure to learn about the various dragonfly species that live in the park.
Click for more information on First Landing State Park
___
Carolina Beach State Park — Carolina Beach, NC

If you're looking for a diverse place to not only hike but also fish, Carolina Beach State Park is the place for you! Six miles of easy hiking trails meander through distinct coastal habitats, and fishing is available along the riverbank or from an ADA-accessible fishing deck. You can even launch a boat from the marina, where fuel, snacks, and fishing and camping supplies are available at the marina store. Refresh yourself after some time fishing by journeying over to the TRACK Trail along Snow's Cut, a man-made waterway that completed the Intracoastal Waterway in 1929, connecting it to the Cape Fear River and turning Carolina Beach State Park into a barrier island.
Rangers regularly host educational and interpretive programs to teach visitors about the fascinating history and natural diversity of the park. Most notably, the presence of the Venus flytrap is a unique feature of Carolina Beach State Park, as is the presence of other carnivorous plants such as pitcher plants, bladderworts, sundews, and butterworts. All of which you can learn about in the visitor center exhibit hall.
Click for more information on Carolina Beach State Park
___
Blue Blazes & Falls Loop at Catoctin Mountain Park — Thurmont, MD

"Along every hill and in every bend in the trail, a new experience, a new beauty, a new connection to Nature, waits for you at Catoctin Mountain Park." Catoctin Mountain Park offers over 25 miles of trails to choose from, and the Blue Blazes and Falls Loop TRACK Trail covers two of them! At the park's visitor center, you can choose to follow an easy 0.6 mile hike down Blue Blazes Whiskey Still Trail or head down the Falls Nature Trail, which is a moderately rocky trail that is 2.8 miles in length. If you choose the shorter route, you will travel along the Blue Blazes creek where you will find interpretive trailside signs about the history of whiskey production on Catoctin Mountain during the Prohibition. 
If you choose the Falls Loop, you'll take the trail up and down across varied terrain all the way into Cunningham Falls State Park on the other side of Route 77. However, the 2-hour hike is worth the trek to see the largest waterfall in Maryland! Both trails offer creek access and are perfect for exploring and looking for aquatic insects. This TRACK Trail offers four activity options, including Catoctin Need for Trees, Nature's Hide & Seek, and Bug Out.
Click for more information about the Blue Blazes & Falls Loop Trail
___
Raven Rock State Park — Lillington, NC

The Raven Rock State Park TRACK Trail follows an easy 0.5 mile loop along the American Beech Trail. Those seeking a longer hike may wish to continue along the 2.6 mile Raven Rock Loop.
Should the humdrum of the work week leave you with the urge to travel and explore, head to Raven Rock State Park. Adventure is just an hour's drive from the Research Triangle and only 45 minutes from the Fayetteville area. The first feeling you are likely to experience at Raven Rock is one of renewal. Here, the forest reigns as each year the timeless cycle of growth further heals age-old wounds inflicted by man. Nature triumphs as plants compete in the stages of forest succession and the woodlands are restored. High above the Cape Fear River stands Raven Rock, its austere beauty a testament to the forces that have shaped the land. As the river below rushes to join the sea, nature's elements continue to shape the surface of this natural monument.