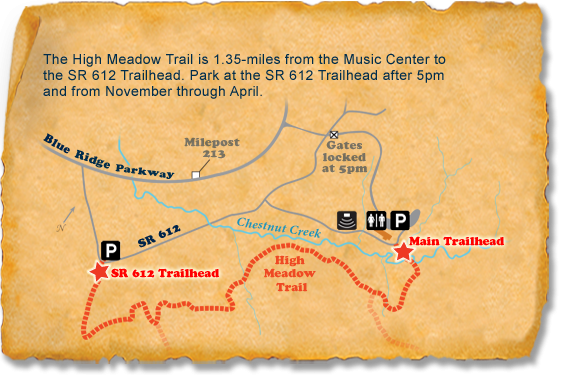 This 1.35 mile long trail (2.7 miles round trip) is located on the site's High Meadow Trail that begins at the Music Center's Visitor Center and terminates at the junction of State Road 612
The out-and-back trail that winds through beautiful forests and scenic farm fields, features several brochures designed to help visitors connect with the natural, cultural and historic resources found at the site; most notably, the Music from the Blue Ridge brochure that describes the types of trees that can be found along the trail that were used to make traditional Appalachian instruments.
"The musical heritage of the region is closely tied to the physical landscape of the Blue Ridge with songs about forested mountains, wildflowers, meadows, and creeks. The new Track Trail at Fishers Peak encourages young people to get out in the natural world that helped inspire generations of musicians," said Mindy DeCesar, Supervisor of Interpretation for the Plateau District of the Blue Ridge Parkway.
About the Blue Ridge Music Center
The Blue Ridge Music Center celebrates the music and musicians of the Blue Ridge. Established by the U.S. Congress in 1985, the site includes an outdoor amphitheater and indoor interpretive center used to highlight an important strand of American musical culture, which is still alive and thriving in the region. 

The site is operated through a partnership between the National Park Service and the Blue Ridge Parkway Foundation. In this region one finds many variations of the ancient fiddle and banjo music of Virginia and North Carolina. This music can be traced to the meeting of the African banjo and the European fiddle in the Tidewater before our nation was created. Here also are found older ballads and religious music that reach deeply into the American past.

The Music Center's concert series, performance-talks and new exhibition, The Roots of American Music, traces the history of this music through local artists back to the creation of the music generations ago by persons from Europe and West Africa, and show how it continues to influence many forms of folk and popular music made across America today. 
Track an adventure here

Location Details
Recreational Features:
Picnic Tables, Interpretive Programs, Birding
Amenities:
Restrooms, Visitor Center, Gift Shop
ADA Compliant:
Seasonality:
Adventures for Blue Ridge Music Center
Directions
Latitude: 36.593588500000
Longitude: -80.845450600000
For Visitor Center hours and seasonal closure information, visit blueridgemusiccenter.org
From the North/East (VA)
Interstate 77 South
Exit 8
LEFT off exit onto Route 148
RIGHT onto Route 52
Follow signs to Blue Ridge Parkway
RIGHT onto Blue Ridge Parkway south
Blue Ridge Music Center is on the left near Milepost 213
From the South/East (NC)
Interstate 77 North
Exit 8
RIGHT off exit onto Route 148
RIGHT onto Route 52
Follow signs to Blue Ridge Parkway
RIGHT onto Blue Ridge Parkway south
Blue Ridge Music Center is on the left near Milepost 213
From the West
Route 58 East to Galax, VA
Right onto Route 89
7 miles to Blue Ridge Parkway
Left onto Blue Ridge Parkway North
Blue Ridge Music Center is on the right near Milepost 213
From the Blue Ridge Parkway (VA)
South to Milepost 213

From the Blue Ridge Parkway (NC)
North to Milepost 213